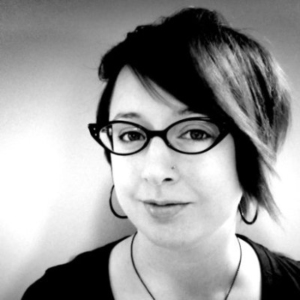 Can you tell me a bit about your background?
Sure. I went to high school in rural Michigan and, strangely enough, we had an amazing technology program there. I got involved with video production and making daily news announcements. I also got involved with Photoshop and web design. I was learning really great skills that you wouldn't necessarily think would be happening in the early 90s in rural Michigan. When I was getting ready to apply for college, I thought I had to leave all that behind, and start getting serious about my academics. I studied English, Religion, and History at Oberlin. I really enjoyed all of that and I thought I would be going to graduate school to study Theology. I was looking for a job after I graduated because I was taking a year off in between undergrad and graduate school. I ended up in a small educational media company that sold VHS tapes and DVDs and were also starting a media on demand prescription service. They were looking for people with writing backgrounds to watch the videos, to cut them into more digestible clips, to write supplementary material, and all the metadata involved with that.
So, it was in this weird way that all the techy things I learned in high school, plus the writing skills I learned in college, were brought together. I didn't think this type of job was a possibility back then. In 2003, online content and the strategy behind it all, in terms of what you are trying to create, was really just starting. I was really fortunate to fall into it early.  So, that is where my career started, making ten dollars an hour at a small educational media company.
How did you get to The New York Public Library (NYPL)?
I went into the educational media company thinking I was going to do it for a little bit and was still planning on applying to graduate school. At work, I was using my left and right brain and really loved it. I just stayed with it and then the company I was working for was bought by Discovery Communications. That really gave me the opportunity to broaden my career to work in content strategy.
I learned so much and did the corporate thing for so long—for about ten years. It felt like I had grown as much as could where I was. I was looking for something new. I thought switching to a nonprofit would be a great way to use the skills I learned in corporate, and be able to help somebody who was very mission-driven.  
Can you briefly discuss who you work with at NYPL?
I am the content strategist and I work with a content editor. We deal with the more "contenty" pieces. We have two UX designers. We also have an interaction designer who is more focused on bridging the physical and digital experiences NYPL users have. In the last year, we have increased user testing and research, so we have folks doing that.  We also have a person dedicated to accessibility and making sure that the website is accessible to all users.
Can you briefly discuss your role at NYPL as a Content Strategist?
The thing about content strategy is that it is very broad.  Some people think of it in terms of front-end and back-end. More of what I do is dealing with the back-end like content modeling and information architecture. The work that is necessary to be able to put the content together for people to see.
Do you have a favorite project or can you talk about what you are working on right now?  I know that NYPL has just undergone a whole re-design of their website.  
So something new and what the public can see now is the beta search and beta blogs. We are taking some re-design patterns and ideas that we launched last fall, and extending those.  
One thing you have to think about when working for a library is, not only do you have information to convey to your users, but also the transactional experiences with the library. We are starting to focus more on those transactional pieces. For example, what is the catalog experience? How are people checking out materials? How are they navigating through the catalog to find the information they need in a way that tries to get away from the traditional library catalog experience? We are really thinking about our users and trying to meet them where they are. To try and get away from library speak and jargon, which is rooted in library science for a very good reason, but now trying to give the users what they need in a way they understand.  
What do you consider is the biggest challenge with your work?
I think there are a lot of disciplines you can say this about, but I'm in content strategy so I'm biased.  I think because…well there are two things. I think because everyone consumes content, and also because of the advent of the internet democratizing the creation of content, I think everyone thinks they are a content expert. I never want to minimize anyone's opinion or limit feedback, but sometimes it is hard to establish that authority and communicate the many reasons why you hold a certain position on how things are being done. Also, why you want them to come more towards your side and see your point of view. A lot of times people may not understand what you do as an expert. When people see pieces of projects in isolation they might want it in one particular way, but as a content strategist, you need to communicate why it does need to be that particular way and not try to overwhelm people with the bigger picture.  
Do you do anything to keep up with what's going on in the field? Are you in professional organizations? Do you read blogs, publications, anything in particular?
Twitter has been huge since I got to the library. When I was in the education field, Twitter was in my life, but now working with libraries it is so much bigger. So much is out there. Folks talking about accessibility and having interesting discussions about the politicalness of libraries. I work with people who have amazing library backgrounds with advanced degrees and I am always reaching out to them. They attend a bunch of conferences everywhere. The great thing is how everyone just pulls together and shares their knowledge with each other.  
Do you have any advice for those people starting off? What professional advice would you give your former self, let's say 5 years ago?
I think I would tell myself to watch that line between insecurity and overconfidence. To be able to strike that middle balance. As a content expert, I see the entirety of the system, and that may make me want to be overconfident with what it is I assert. But, that can come up against authority way higher up and that can instill insecurities in me. So yes, really finding that middle ground and owning that space as a professional is important.
The advice I would give for other people starting out, especially right now, is to get involved with the community. There are so many good conferences, Confab for instance.  People are really interested in content and content strategy. Learn lessons from other professionals, gobble up all the information out there that is so valuable and helpful because you aren't alone.  There are so many sub-disciplines in content strategy and you can't be a unicorn. So, if a content audit is something you need to do, but are not necessarily familiar with it, someone has written about it. Go find that and learn from it. Always be learning. Just always be learning.  
What is your favorite thing about the work you do?
My favorite thing is kind of intangible. It is that I am helping to empower the library to accomplish its mission in ways that are increasingly improving and meeting the users where they are at. I love helping the library fulfill its mission.
I think of libraries as having this beautiful audience problem. The audience is everyone from little tiny babies at a baby lap circle to folks who are in knitting circles. From all levels of literacy to doctoral students who are doing heavy duty research. As a UX person, it would be great if we could narrow our audience, but we can't. You really do have to think about how to serve everybody. That is the great problem because the library is here for everyone. That is the beautiful part of it.