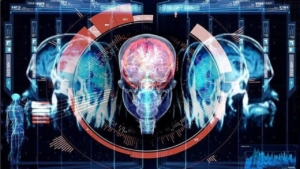 How would you feel if you were late for a meeting because of a Google Maps error? What if your favorite movie stopped loading at the most interesting moment? What if you missed your flight due to problems with your e-ticket? What would you do? Emotional states are greatly influenced by how people interact with environments and systems—including digital products and user interfaces.
Users have a substantial amount of emotional experience with the product—both positive and negative—and emotions may fluctuate from minute to minute and day to day.
The Range of User Emotions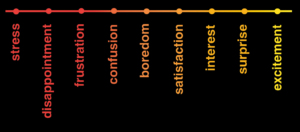 Ways to Measure User Emotions
UX specialists have many methods of evaluating user emotions—for example, the Likert scale, the Semantic differential scales, emojis, open-ended questions, product reaction cards, and more. However, in all these methods, the amount of information that the participant can provide is limited. As a result, examining unconventional and innovative rather than common means of emotion evaluation is important.
Brain-Computer Interface
The brain-computer interface (BCI) is a combination of hardware and software that allows scientists to research the brain's cognitive processes as well as register changes in emotional states and levels of attention. Studying brain activity by using a neural interface has a high temporal resolution. With this method, registering rapid changes that correspond to the high speed of brain-information processing is possible. Advanced signal processing and machine learning methods are applied in order to investigate the neural correlates.
Initially, BCI technology that was developed for disabled users promised the invention of assistive technology. However, current BCI exploration has encouraged researchers to study BCI involvement in entertainment for healthy people.
BCI Equipment
Applying BCI to usability testing is appropriate for real-world settings. Equipment needed to conduct the research includes only a wireless device connected by Bluetooth to the app. Basic BCI equipment is available for purchase on Amazon. The starting price is $200. In order to conduct research, a UX specialist does not need to be a scientist or have any specific knowledge. Each BCI device comes with a QuickStart guide that helps users operate the equipment and analyze the results.
How Does it Work?
The BCI app interface includes four displays: brainwave visualizer, brainwave power spectrum, attention meter, and meditation meter. The brainwave visualizer tracks the frequency bands of a participant's brainwaves. In this circular chart, each of the eight axes corresponds to a different frequency band. As a participant's brainwaves naturally fluctuate, the circle changes and flows artistically. The brainwave power spectrum is a display of the voltage of the participant's brainwave signal. The attention meter is controlled by focusing on a single thought or point. As the participant shifts away from such focus, his or her attention value decreases. The meditation meter displays levels of calm and meditation. When a participant breathes deeply and sits with a straight back and closed eyes, the meter shows high values.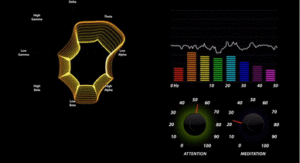 Deep Dive into Brainwaves
Conclusions about a participant's emotional state are based on brainwave fluctuations. For example, a Gamma brainwave demonstrates decision-making and deep-learning processes; Alpha waves appear in moments of calm and relaxation.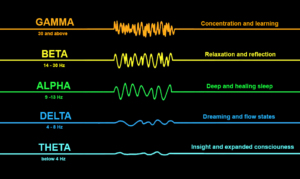 How the BCI Method Leads to Better Usability
BCI technology provides accurate results and a deeper understanding of user experiences. The research described in the article, "Human-Computer Interaction for BCI Games Usability and User Experience," shows that BCI can provide new kinds of information—specifically, on the user's mental state. Brain activity detected by the BCI identifies the participant's concentration level, degree of emotional involvement, overall emotional state.
Accurate data about participants' emotional states during testing make weaknesses on the website easier to identify and fix. BCI research results provide UX specialists with insights regarding further website improvement.
References:
Bernhaupt, R., Dalvi, G., Joshi, A., Balkrishan, D. K., ONeill, J., & Winckler, M. (2017). Human-Computer Interaction – INTERACT 2017: 16th IFIP TC 13 International Conference, Mumbai, India, September 25-29, 2017, Proceedings, Part IV. Cham: Springer International Publishing.
Deniz, G., & Durdu, P. O. (2016). BCI-Related Research Focus at HCI International Conference. Lecture Notes in Computer Science Human-Computer Interaction. Interaction Platforms and Techniques, 151-161. doi:10.1007/978-3-319-39516-6_14
Szalowski, A., & Picovici, D. (2016). Investigating color's effect in stimulating brain oscillations for BCI systems. 2016 4th International Winter Conference on Brain-Computer Interface (BCI). doi:10.1109/iww-bci.2016.7457449
Menzies, M. (2014). Neurofeedback: A Tool for Educational Research. Ottawa: Library and Archives Canada = Bibliothèque et Archives Canada.