BY Yisha Su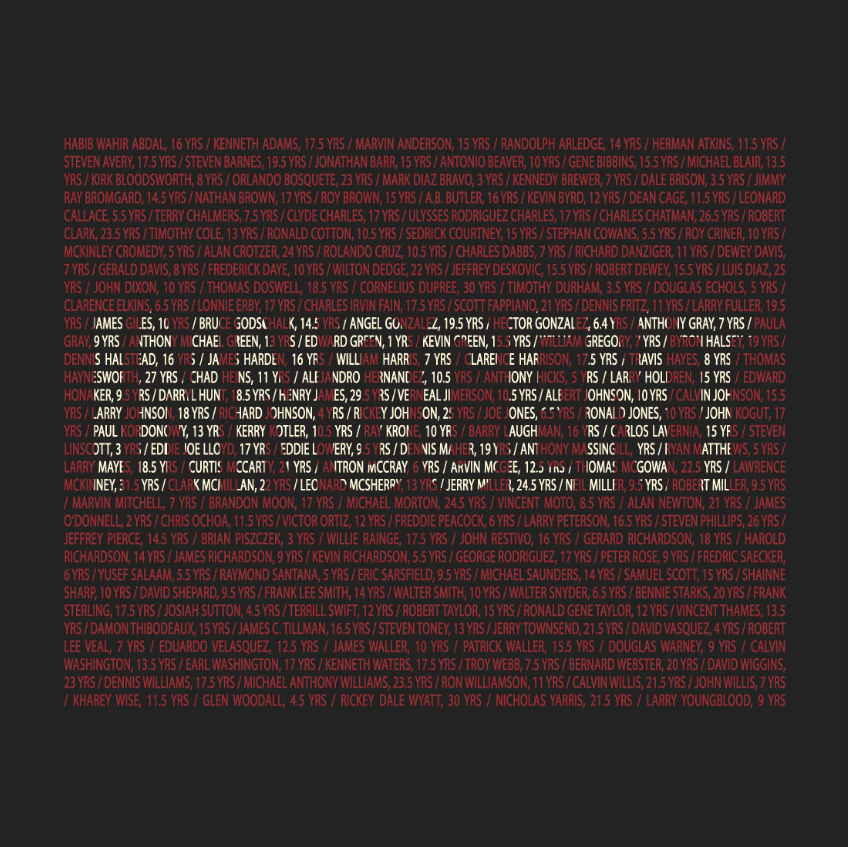 When I chose clients at the beginning of the class, the Innocent Project made me aroused my curiosity and interesting. I never knew there was a non-profit agency doing such a great thing – "The Innocence Project exonerates the wrongly convicted through DNA testing and reforms the criminal justice system to prevent future injustices." It made me think about a song called Innocence by Avril Lavigne:
"The first time in my life, and now it's so great
Slowing down, I look around, and I am so amazed
I think about the little things that make life great
I wouldn't change a thing about it
This is the best feeling
This innocence is brilliant
I hope that it will stay
This moment is perfect
Please don't go away
I need you now
And I'll hold on to it
Don't you let it pass you by"
This was the first English Song I learned during my junior high school when I had no clue that I would study in the United States American someday. Thus, I named our group chats Brilliant Innocence on the day when I grouped with Michelle Kung, William Merrow, and Shradha Shree together. I have to say this was one of the best teams I have ever worked with. Everyone was very accountable! Thanks to them, we made Innocent Project Mobile User Testing 100% BRILLIANT.
In order to conduct face to face user testing, one of the most important things was to recruiting people. The process was not that smooth for our clients did not show up at the first meeting in our class, for which Craig, our lovely professor, gave us a lecture when other groups were talking with their clients (BRILLIANT). Later, when we finally got the chance to talk with our client, we learned that they wanted to recruit mainly black and Latino men. I really doubted if we can recruit enough people to do the user testing no mention black and Latino men (BRILLIANT*2). Anyway, even though we had no idea whom we can find, we made a great recruiting form by google survey, during which process I found William was a very detailed person because he pointed out every spelling mistake, word-choosing issue and capitalizing problem. Then after some revisions based on Craig and our clients, we started to reach our friends and classmates by sending the link of google surveys through emails individually. The results were much better than we expected, we got 26 respondents, including white, Latino, African- American, Asian, Middle Eastern or Arab and mixed blood. I chose two of my friends because they were somewhat interested in the Innocent Project.  The most interesting thing was that one of my users' brother had worked as a lawyer for the organization. What a small world! Though the whole process of user testing, I found the hard part was to set a time to meet them because Thanksgiving was almost coming. One of them was failed to meet me at the first appointment. But anyway, I finished my user testing ahead of time and brought interesting findings to our group discussion.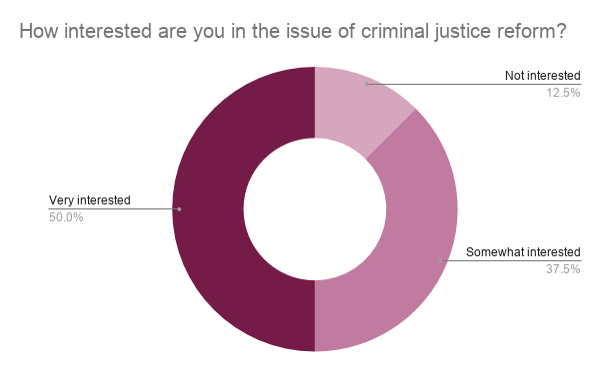 All my users thought the website was on par with or even better than other nonprofit websites. One of my users said in a post-test questionnaire: "A little better than other nonprofit websites. I have seen lots of webpages of nonprofit organizations. some are sleek some are terrible. This one is good!"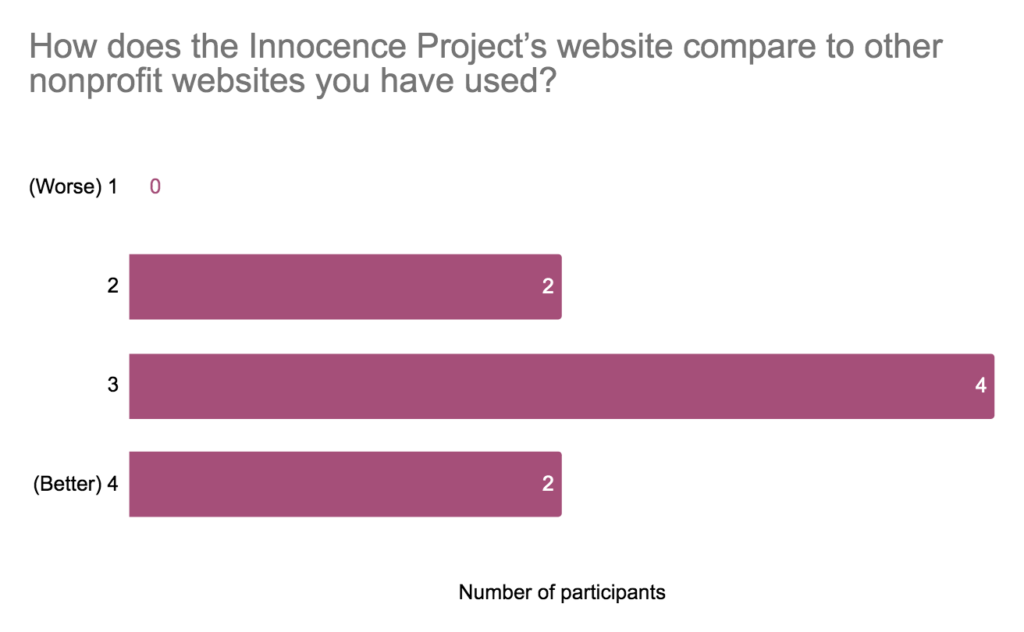 In task 3, participants were asked to explore the homepage to learn more
about the Innocence Project. We wanted to find out if everything on the
the homepage is understandable. Most of the users like the homepage but some small issues were identified. One of the users said that the "white text is hard to read on a photo background", while some users wanted more big numbers and statistics to showcase success stories and convey the impact of the Innocence Project's work. In the words of one user, "I would like to see more success stories or some statistical information to understand the impact of this Organization." To solve the above issues, Recommendation 2 was generated- Make Buttons Look More Clickable & Add Statistics on Homepage.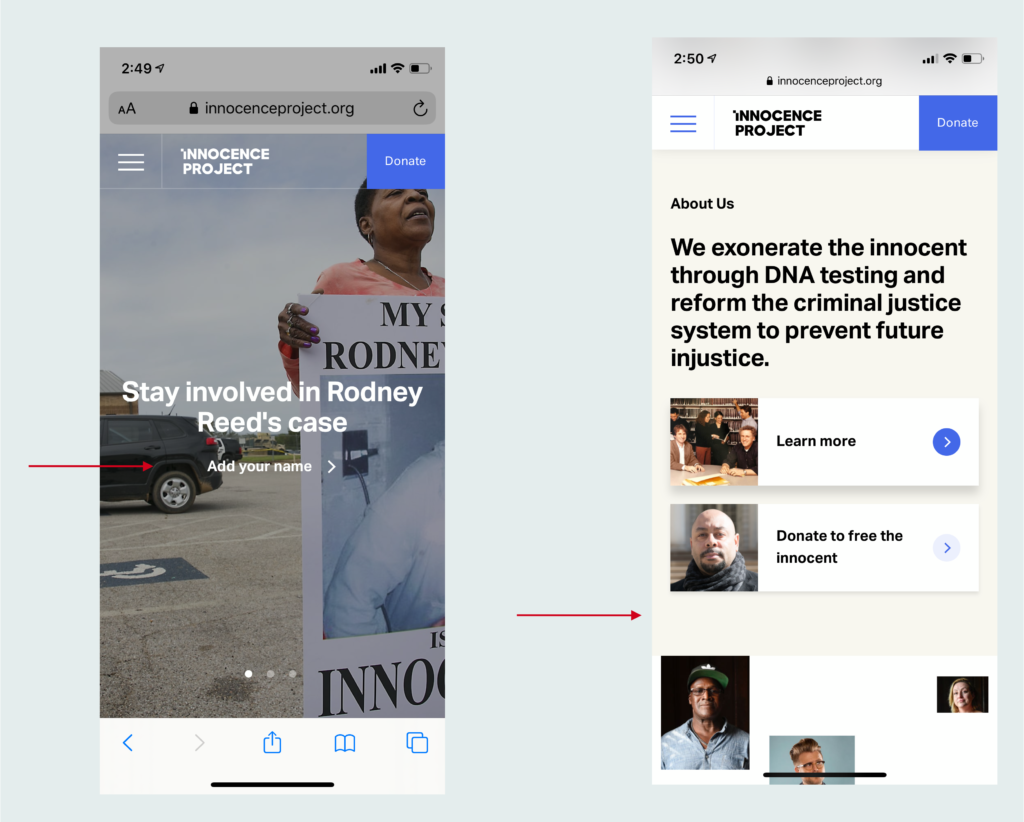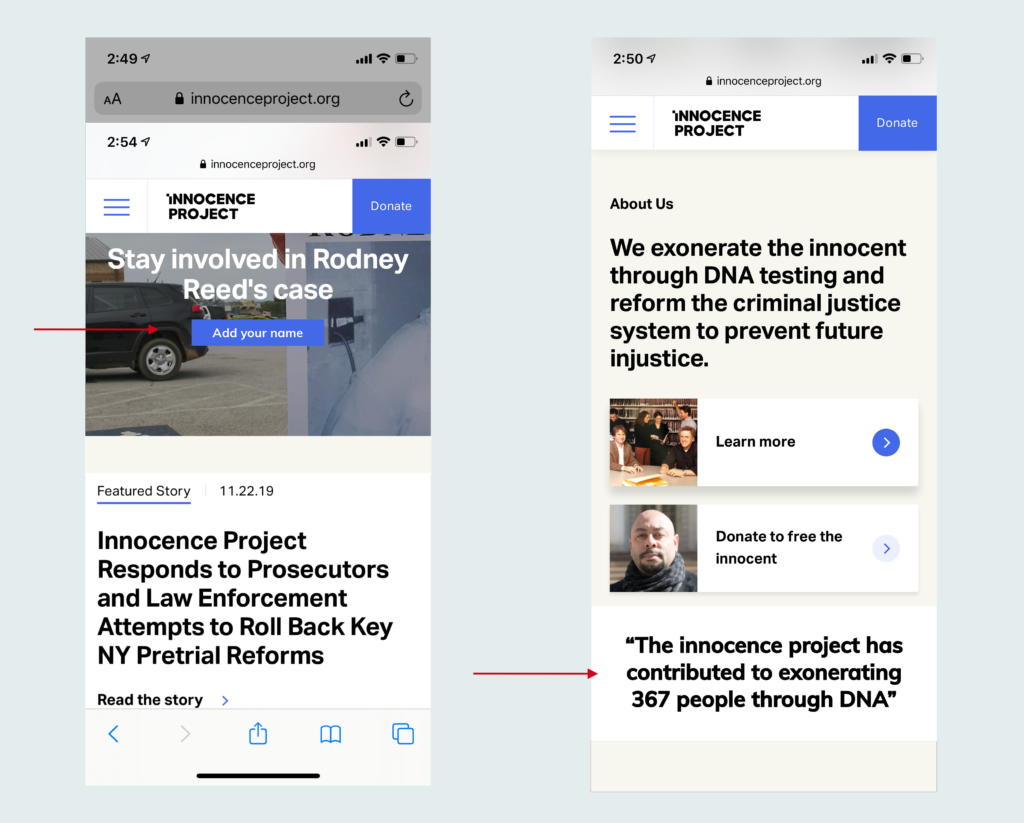 Overall, the Innocence Project's mobile website did a good job of engaging new users. Areas that can be improved including 1) Labeling of buttons and links need to better reflect their function and destination. 2) Clickable buttons should look clickable 3)Lack of statistics showcasing successes 4) The different forms sometimes confused participants. Our group made different recommendations to address those issues. In the end, our client had a very high opinion of our recommendations.
For me, I made a great progression by recommending myself to present the recommendations partly because English is not my first language for which it was a challenging task for me. I quite appreciate my teammates for trusting me and giving me the chance. In addition, I believe I did a great job of collaborating and communicating with my teammates and generated creative ideas. I also designed the cover page because I had some design background which I got inspiration from the T-shirt of the Innocence Project Store. I also did the additional job by editing the whole report in InDesign to make it beautiful, even though it was the most time-consuming part compared to my other duties and I did not have to do that. But, I always like making things beautiful.
Report:
https://drive.google.com/open?id=1aHXOBUkELyLX_8uZzWsvEac11iWdoHcC
Presentation:
https://drive.google.com/open?id=1BnwDWnbDppkVetFbNdRqG1lpnC4NI8OCOVxTZV3Gv1I
Presentation Video:
https://drive.google.com/open?id=19DV4d9i_ohox7lSv2LpKnnphpz0Jr8wb