In "The Elements of User Experience", Jesse James Garrett explains the five elements that are the planning stages of making a successful UX design. It starts with an abstract level and goes towards the concrete level as follows: strategy, scope, structure, skeleton, and surface. I will compare Zocdoc and MyChart Websites based on these five elements and see which website meets the guidelines and which doesn't.
Zocdoc and MyChart are online medical platforms that make personal health easier by providing an online medical care appointment booking service.
Strategy: User Needs & Product Objectives
Zocdoc
User needs are simply finding in-network neighborhood doctors with good reviews and being able to instantly book appointments online. Booking an appointment with Zocdoc is free for patients. Doctors pay an annual subscription fee, which is the primary source of revenue for Zocdoc. It appears that Zocdoc is putting the patients first and encouraging the professionals to engage with patients.
MyChart
The user wants to access appointment scheduling, electronic health records, and patient-doctor communications promptly. MyChart also offers a free service to patients. It's powered by private healthcare software: Epic. It is also quite possible that the ultimate goal is for increasing revenue as well.
Scope: Functional Specifications & Content Requirements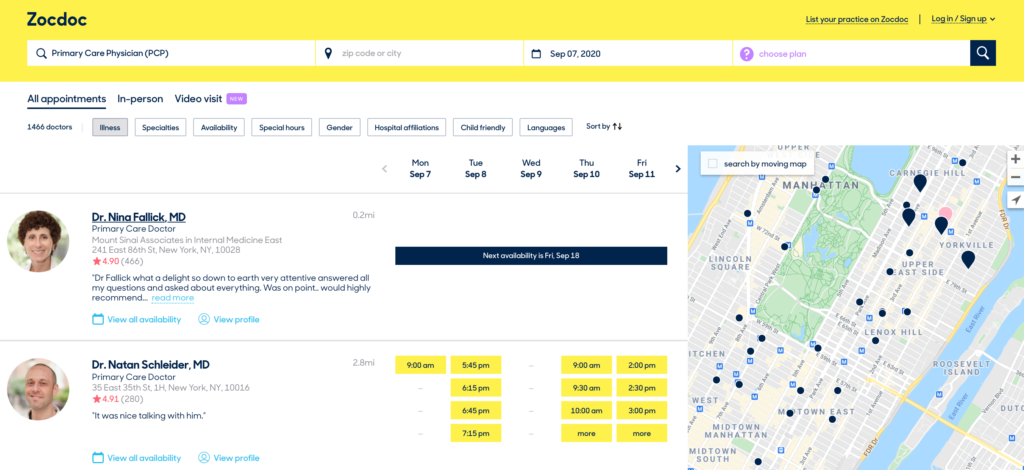 Zocdoc
The major scope of the Zocdoc website is functional; the features are showing the users' the doctors' available appointment times and also enables them to book instantly. Zocdoc recently launched live video visit services during the pandemic. I think it is an amazing feature for patients to connect to doctors without requiring a physical visit, even for first time patients, which helps people to accomplish their goals immediately, and it effectively communicates interactivity and functionality. Furthermore, verified reviews are beneficial for choosing a doctor.

MyChart
MyChart has similar features to Zocdoc. MyChart possibly provides even more features. One of the outstanding features that MyChart has, besides scheduling appointments, is that users can access their electronic health records, view their test results, and they can even send texts to the doctors any time after their video visit.
The MyChart website provides an enormous amount of information and includes prescribed medications, immunization history, and medical records.
Structure: Interaction Design &Information Architecture


Zocdoc
This website's structure is neatly organized and smartly prioritized. I love the default page that straightforwardly asks users their condition, location, available dates, and insurance plan all on one page and in a very simple way, the specific result is shown by one click.
I like the part searching bar that automatically shows the top matched words even with one letter that lets the user skip typing the whole word.
Zocdoc allows users to log in with other accounts such as Google, social media, or Apple; no need to sign up, it saves users time.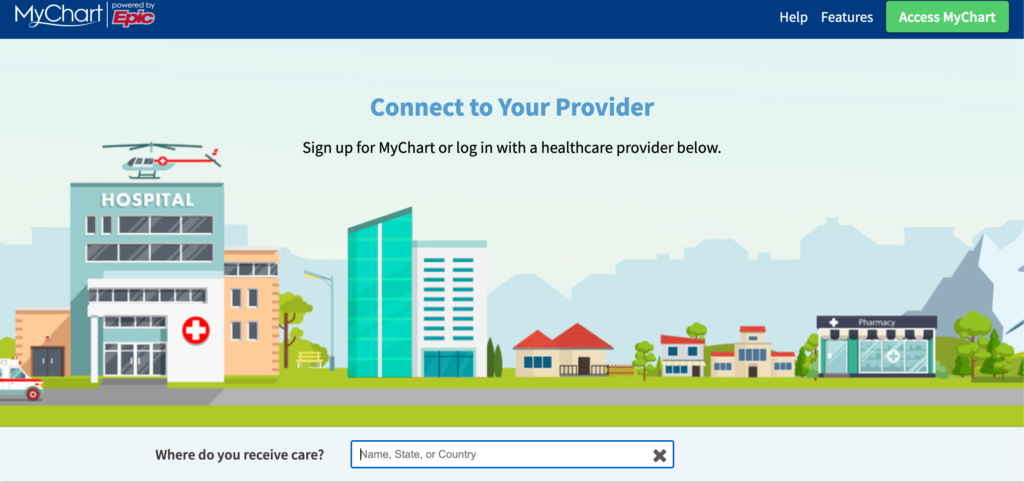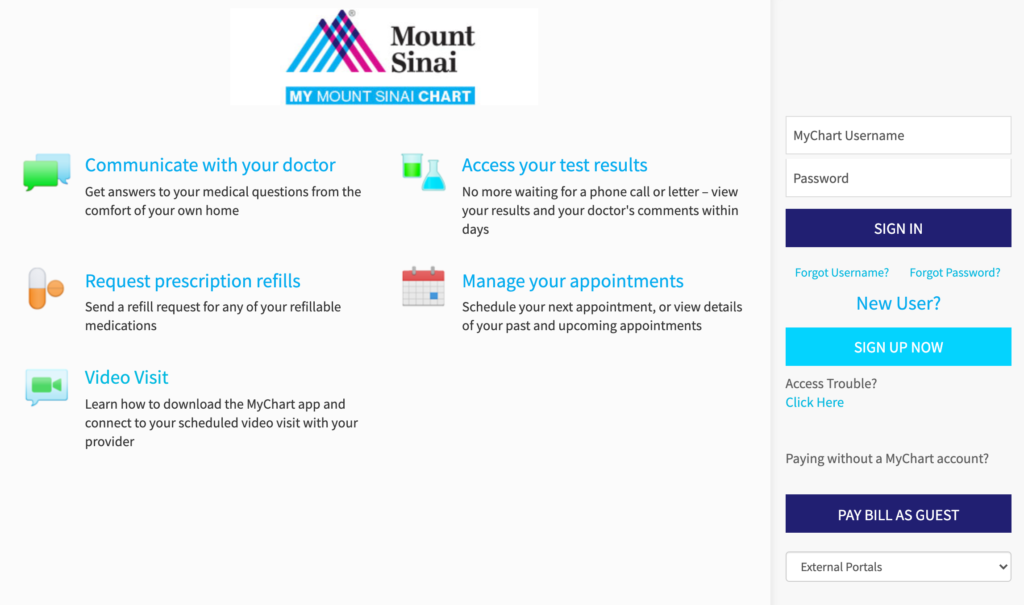 MyChart
From my perspective, MyChart's website structure seems as though it could be improved at multiple points. On the homepage, even after clicking the green button, it doesn't let the user have access. It seems that the user needs to fill the blank in first. (Where do you receive Care? question).
It doesn't show top matched word as options at the research bar, it shows all health care organizations listed in alphabetical order instead – I had to find Mount Sinai which starts with an M. It took me a couple minutes from the first place I hit the green (but not working) button to find my organization. However, I realized that that was only the start, I had to sign up with a solid process and log in typing each letter one by one; no login options with other accounts.

Skeleton: Interface/Navigation Design & Information Design
Zocdoc
Zocdoc used both images and text. Doctors are displayed with their photos and background, that help users to accomplish their goals in choosing doctors quickly and effectively. The buttons, icons, photos, and text are nicely placed and very clean; all the buttons were easy to find and where you'd expect them to be. The placement of the elements is clear and obvious. Users can edit their information anytime and the navigation bar is always on the top.
MyChart
MyChart used text and icons, but mostly text. The repeated categories, same icons, and various colors blur the lines between navigation and content which could confuse users. It could be more nicely organized and clearer. For instance, there are user names with the log out button, next to it is the profile button, and another main user button, all separated. It doesn't need to show all the sections as opened (calendar, news, reminders, etc.)
Surface: Sensory Design
Zocdoc
I like the warm welcome feel of the yellow color which matches their brand identity. The sans serif font they use feels clean and legible. The icons, primary color, font, and layout of the interfaces are consistent with the brand, and it seems easy to navigate and comfortable for users.
MyChart
It seems every healthcare organization has different colors in MyChart. The way I see it, the colors at the MyChart website need to be unified to increases brand identification. Additionally, the layout and arrangement of elements need to be improved.
Even though MyChart provides better features and more information, Zocdoc seems to have a stronger reputation. I would say its user-friendly interface is one of the main reasons.