We are surrounded by technology that allow us to make a purchase anytime anywhere. But what makes us recognize a brand instantly when we are viewing their e-commerce store on different devices? What evokes our memory about certain product when we walk into the retail space?
If you are looking to buy a new laptop for the upcoming semester, you might start searching online. Perhaps, you'll consider storage space, hard drive capacity or operating system. After you have gathered information about laptops of different brands, you could compare them in your mind and decide to go into the store and experience them hands on. While you are in the store, you might learn more about certain laptop by talking to a salesman. Later on, you might hypothetically learn that your friend Jenny is also looking for a new laptop. You pull up the one you've been wanting on your smartphone screen to show Jenny. She also tells you about the laptop she's been considering. You like what Jenny tells you, so now you are down to two options to choose from. You've been watching deals online, wandering between stores to learn more. One day you decide to purchase the one Jenny told you about because that brand is giving a special discount for students.
Sound like a familiar experience?
There is so much involved in the process of making a purchase; many factors play different roles in the decision making process of a customer. Each factor weighs differently in this process as well. Considerations range from the most basic thing like price to more complex aspects like brand experience. "Omnichannel" is a buzzword in the marketing industry. It means creating a holistic and integrated experience for customers through different channels, no matter it's on a laptop, a smartphone, or a kiosk that you might interact with in the store. It affects the experience of building up the brand involvement for a potential customer. Because of emerging technologies, buying means so much more than going to a store and making a purchase. Additionally, shopping is becoming easier than ever with our personal devices. Usability of brands' online portals comes into play a very special role in creating the purchasing experience, therefore, affecting the decision making process. Understanding of what makes a customer decide to purchase is challenging, because there's so much involved. But understanding how usability could enhance the user's brand experience is something for which designers can find a pattern.
From a marketing perspective, it is about turning a potential customer into an existing customer. From a UX perspective, it is about creating a consistent experience for users of different interfaces, which facilitates deeper brand involvement resulting in purchase.
"A consistent user experience, regardless of platform, is one of the 5 key components of a successful omnichannel user experience. Consistency across channels builds trust with customers." Kim Flaherty wrote in the article "Consistency in the Omnichannel Experience."
A successful omnichannel experience includes five key components:
Consistent
Orchestrated
Collaborative
The key word in creating brand familiarity learnability and trust is "consistency".
"A very similar interaction style on all different channels will be familiar, will strengthen the brand, and will offer users the opportunity to take advantage of any knowledge acquired in previous interactions with the company." I found this quote in the same article mentioned above well summarized the power of consistency.
As a UX designer, understanding different interfaces helps to develop a design that works across devices. You are not only designing for the webpage, or the app interface, on top of considering the unique characteristics of each platform, understanding of the brand and the product is crucial for a UX designer working in a business environment.
A brand's website is the starting point from which many customers get involved with the product and the brand. An platform-appropriate and easy to use website will lead to a good impression of the brand. Potential customers might visit the website on their laptops, tablets, or smartphones. Before they make a purchase they might visit the website multiple times through different devices. Having that consistency between devices is crucial for building the brand image and the knowledge of that brand. Getting to know a new brand is a learning experience for new customers who won't want to learn how to navigate a different system each time they visit the brand on another device. The learning experience is also continuous so that a customer might revisit the brand on a different device after his/her first experience.
Apple provides a good example of creating consistent user experience on both laptop and mobile devices. The navigation system and the content of their website is identical on both phone and laptop, which provides a continuous user experience on different devices. Minimalistic design also allows the user to focus on one thing at a time.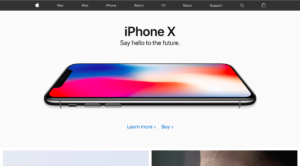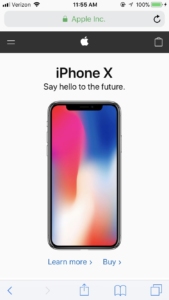 There are great tools and resources that help you to achieve consistency across platforms. Bootstrap is a mobile first, responsive web design open source toolkit. It helps web designers to build websites with that consistency in mind. Its idea is to build a website from the smallest screen to the biggest scree, different components and features are added on top of the fundamental tasks a webpage needs to achieve.
A consistent design helps the customer to recognize a brand quickly, pick up the existing knowledge about the brand more rapidly and all of these contribute to the likeliness of the final purchase. If a customer has a good experience with the brand the first time, that customer is more likely to become a returning customer and share her experience with people she knows. A good usability driven website not only provides the ease of use for a user, it also facilitates promoting a good brand image and perpetuating brand awareness.
"As companies and organizations design for the larger user experience, it's important to consider consistency across all channels. Consistent experiences create trust in the organization. Each interaction is part of the overall user experience with a company. If the user experience isn't consistent across channels, users will question the organization's credibility." (Kim Flaherty, consistency in the  omnichannel experience)