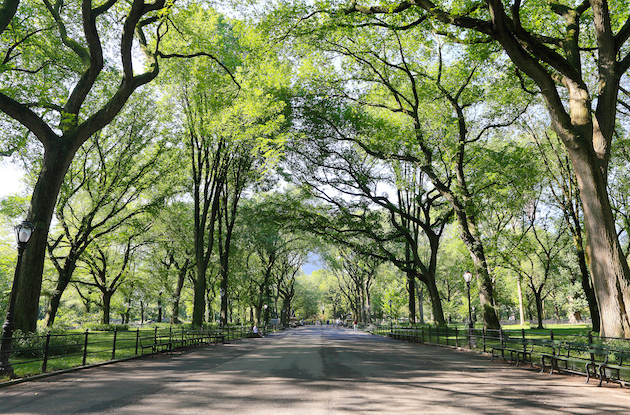 The Project: Reserve A Spot.
New York City Department of Parks & Recreation seeks to provide safe experiences for park guests. Whether park go-ers are intentionally visiting or just passing through, the physical experience should be both accessible and memorable according to their mission.
The department aimed to implement a hypothetical feature that allowed park-goers to reserve a space at any NYC park for a dedicated time slot. As a secondary task, the sitemap was also in need of reorganizing.
Building The Team.
Our team of three set out to collaborate in ways that foster imagination and insightfulness, despite remote collaboration due to the current circumstances.
Stephanie M (myself): Project Manager
Shivani I: Copywriter
Viola L: Product Manager
However, all three teammates were integral in supporting each others' roles throughout the entire process.
Defining The Goals.
While NYC Parks has a deep-rooted history with the city's residents, the digital experience of nycgovparks.org incites opportunity for improvement, as seen below: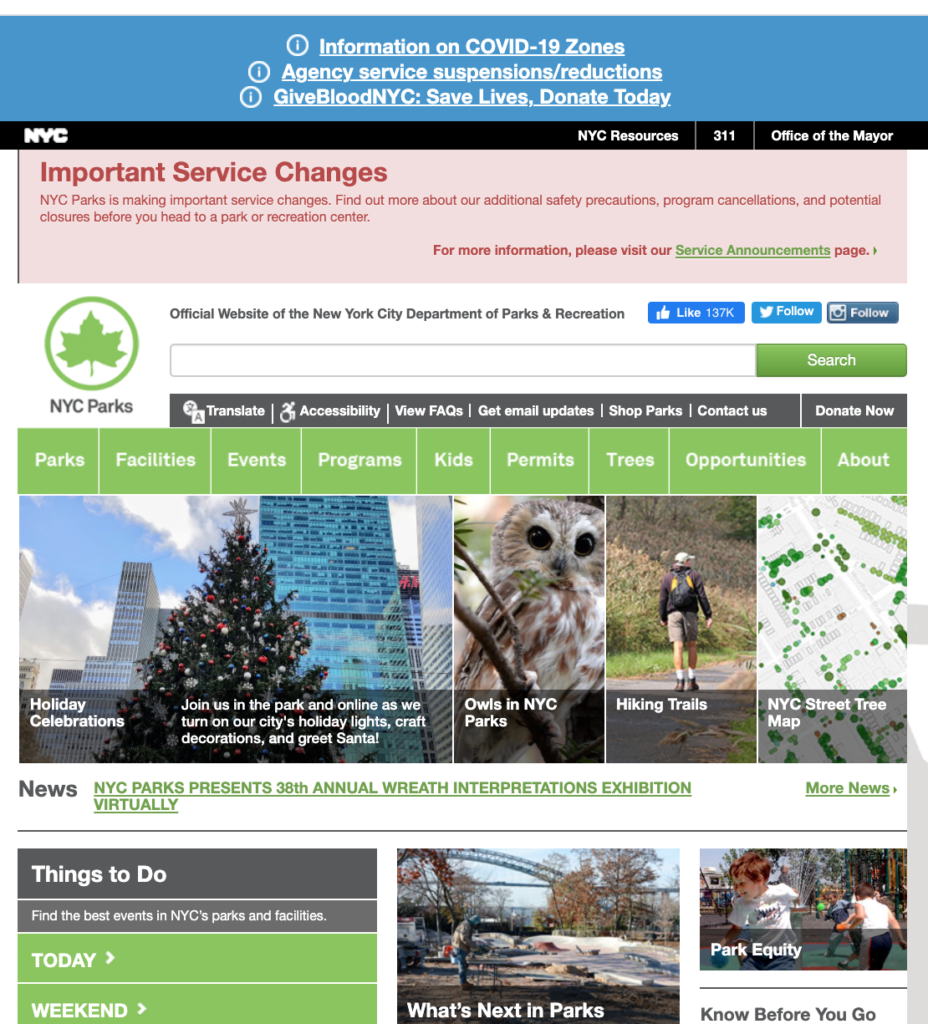 How can we implement a brand new feature that redefines the traditional goverment website experience?
Our group aimed to optimize the mobile experience of the Park's website to promote a new feature that allows tourists and residents alike to reserve a spot in advance.
With this question, we aligned our final goals with the client's, including:
Optimizing the web layout for the increasing number of mobile users
Acknowledging the financial challenges that the Parks Department faces
Accommodating how visitors' relationships to parks are changing in the COVID-19 era
Outlining The Process:

1. Building Empathy
To create empathy for our users, ethnographic interviews and contextual inquiries were conducted.
Based on 7 interviews and 6 contextual inquiries, we gathered the following insights:
Park-goers prefer to be unplugged at the park and wish to accomplish all necessary communication before their visit.
Despite the park being a public space, park-goers prefer secluded spots over spaces of high interaction, especially in the COVID-19 era.
Mobile-friendly sites are crucial for increasing engagement. Users often search for operational information such as hours, facilities and amenities, and parking.
Conducting these interviews was challenging in itself as the pandemic limited the availability of randomly selected participants. Overall, we were able to gather that *whatever* we went on to create had to ensure simplicity, security, and accessibility. We also wanted to provide customization and unique browsing options to ensure users felt safe and catered to in these rocky times. The inclusion of interactive maps, custom search, and point-of-view images were features we chose to highlight. Most importantly, we chose to emphasize a playful experience, since many of the interviews shed light on the negative outlook users held on government websites as being static and confusing.
2. Assessing Structure
Next, we sought to redefine the sitemap. As it was filled with redundancy, our team conducted a card sorting task on users.

The analysis on Optimal Cardsort provided influence for our grouping, for example, of FAQ with About, and Reserve-a-spot with Parks Permits. We learned that users also grouped words together that contained parallel diction, such as the word "Programs" for example. Overall, it was clear that the site navigation could benefit from a reorganization.
After reviewing the results, we created our original site map below: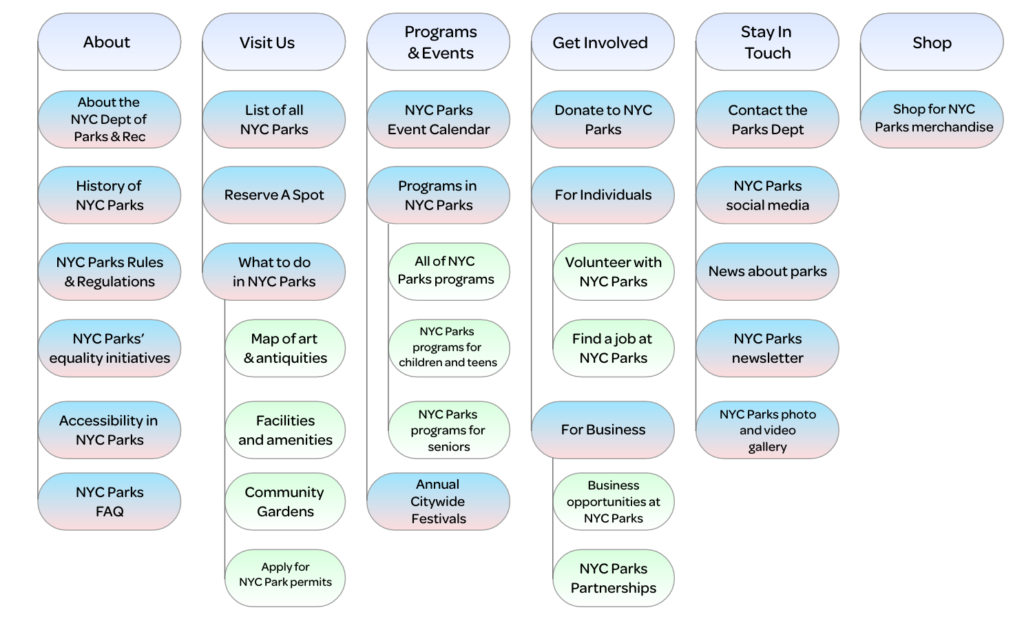 In order to ensure the site map would be effective, we put it to the test by conducting a tree test with seven users and three tasks in order to revise and update our map if needed. There was evidence that users often confused the functions of Park Permits and Reserve a Spot. Because of these findings, we then nested them both within a Reserve category to resolve this ambiguity.
The changes are highlighted in green below.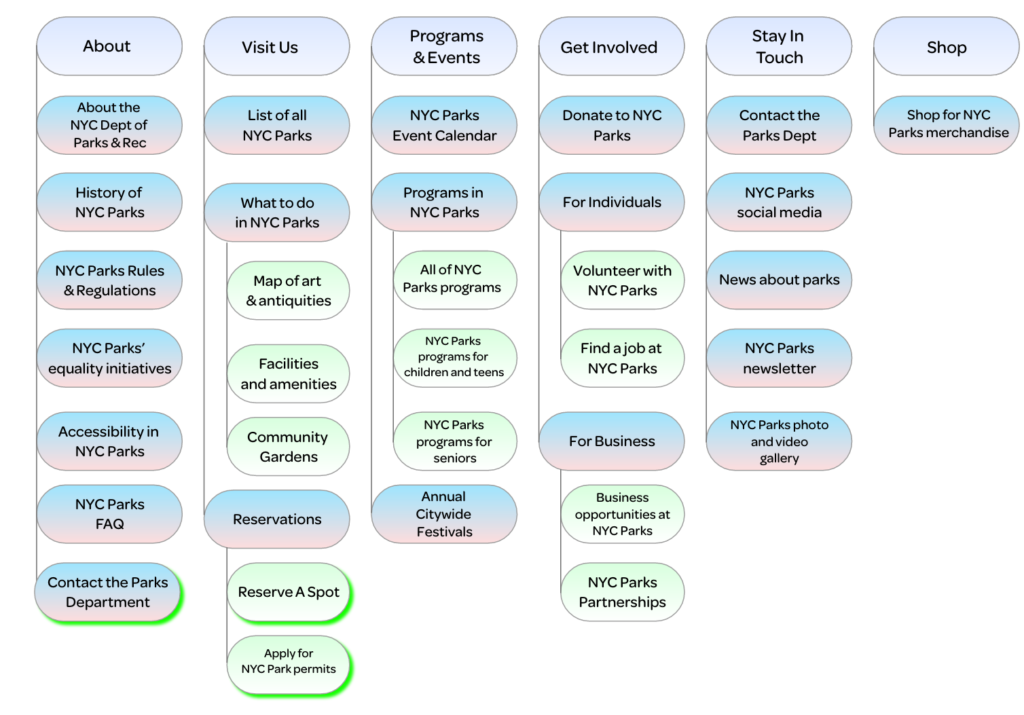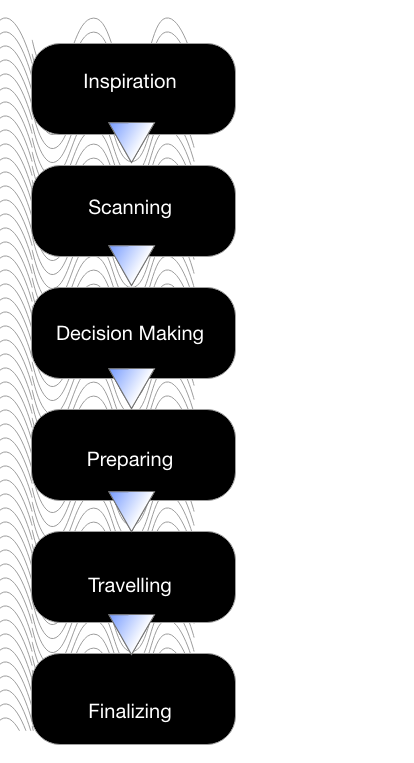 3. Imagining Solutions
Now that we had collected valuable insights and completed the new site map, our focus became actualizing our ideas.
We used Figma to create a low-fidelity testable prototype (shown below) inspired by the User Journey.

We made an effort to incorporate unique filters, an interactive map, and a minimal design to inspire users not only to begin but most importantly to follow through with completing the task of reserving a spot. However, after testing, we discovered the following revisions had to be made:
Users want clarity in labeling. The three buttons on the initial screen were confusing for some users.
Users don't always know the name of parks.
Users want to use this tool in near-future situations. Adding options for months or years down the road isn't necessary for these users.
In creating the following wireframes, I chose to focus on point #3: to provide the option to emphasize near-future situations.
4. Refining
Wireframing
In an iterative design process, cyclical refinement is key. In creating my wireframes, I decided to tackle the previous task of redefining and organizing the search page. Rather than providing users a single page to select the park and timeslot on, I provided new search functionalities discussed in detail further below.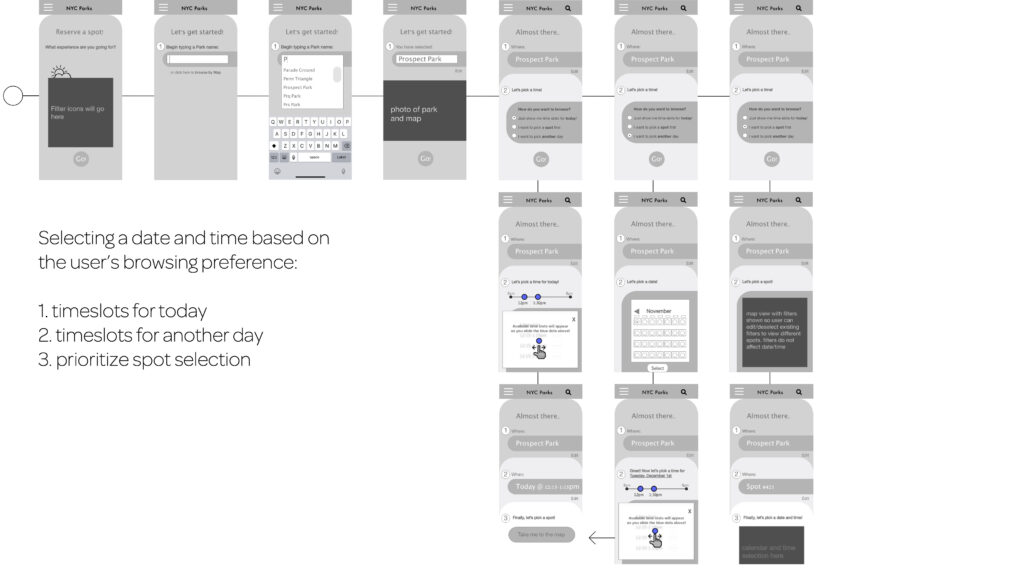 I began by providing an option to browse by the map as an alternative to browsing by park name. This is to ensure the inclusion of tourists as users.
I then offer the following three user flows that present different browsing alternatives.
"Just show me time slots for today!"
"I want to pick a spot first"
"I want to pick another day"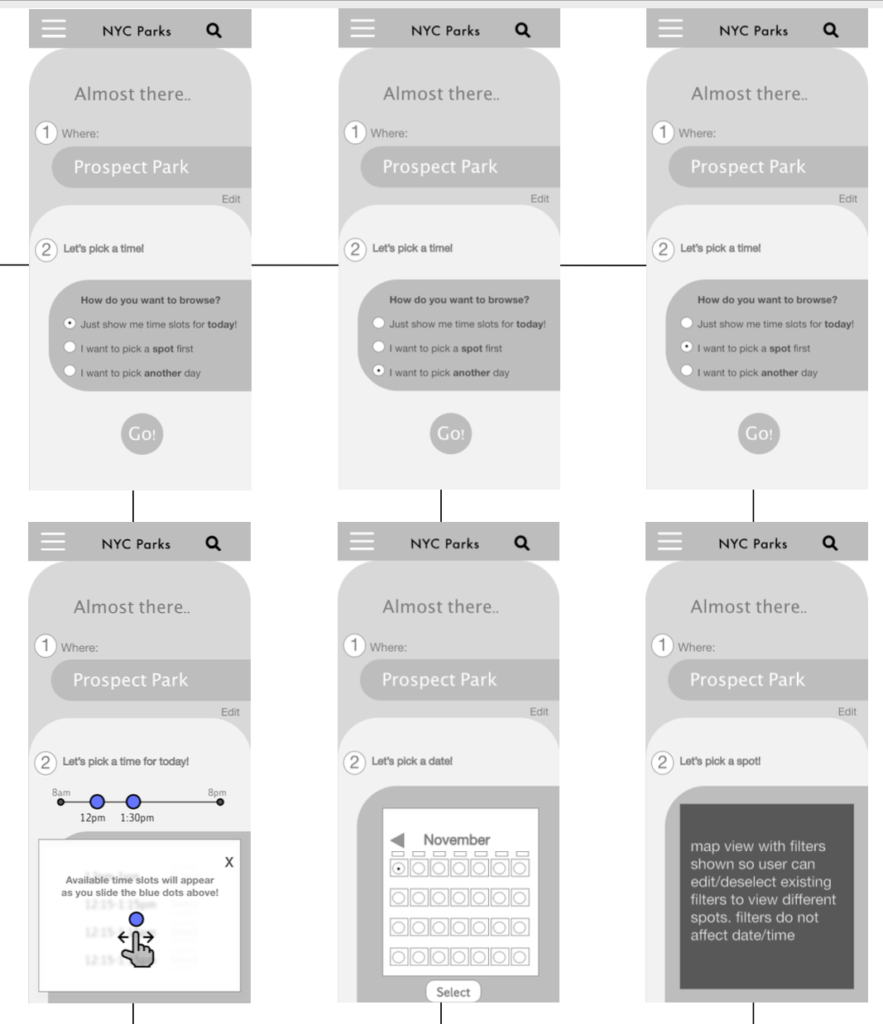 Lastly, I chose to use bullets and a separate Go! button, rather than making each choice its own button, to prevent users from pre-maturely pressing on their browsing option before reading the others.
For the time slider, I added an informative pop-up for first-time or aging users.
Breakpoints
Finally, I re-designed the confirmation page in hopes it would provide a serene experience to counteract any associations or preconceptions that government websites are pedestrian. I made sure the Edit button is easily accessible so users can adjust any information, as we would not want a user to create a new reservation instead.
All information fits on a single page so the user can easily screenshot (mobile) or take a photo (desktop) of the information to share with a friend easily. Alternatively, the user can text (mobile) the details to a friend as one of the provided "next step" options. The text will be sent as a photo confirmation, with the details also written out below it.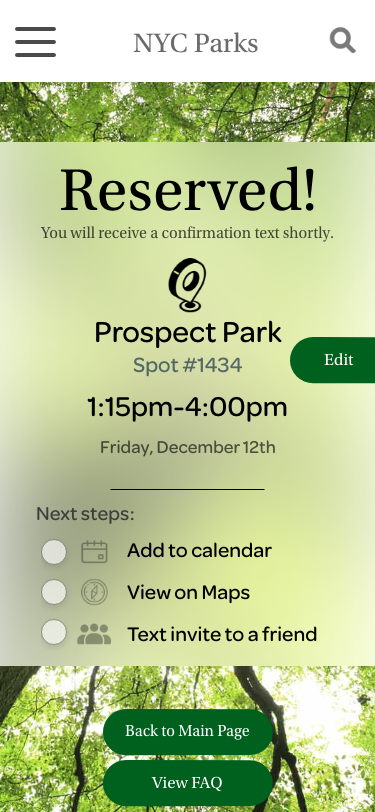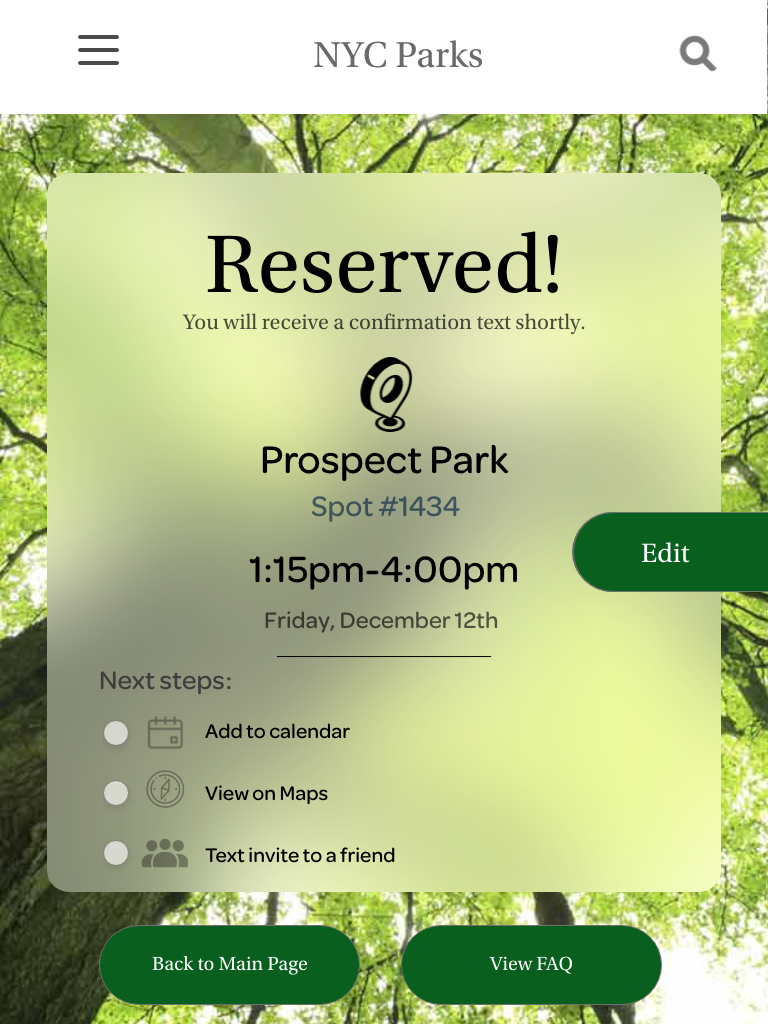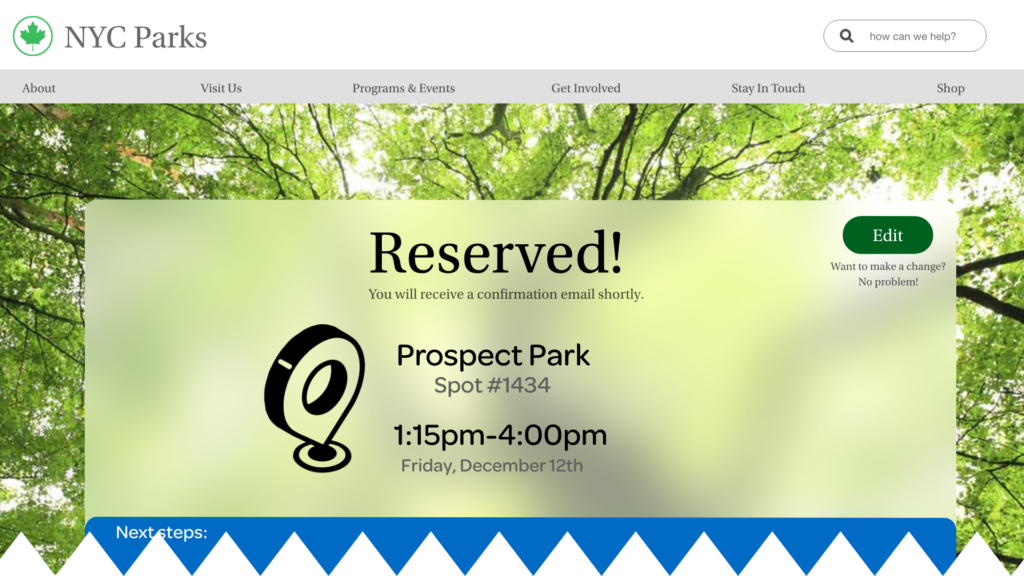 Conclusion.
Creating a safe physical space at the park is the priority of the spot reservation concept; however, it was our goal to provide a unique digital space to compliment the experience. We wanted to excite users to enjoy public spaces in a manner that establishes safety and wellness. If this solution were to be implemented, the physical specifications would need to be discussed thoroughly, including: space size, arrangement, and markers. As for the digital product, future discussions should emphasize the reality of filters: Is it possible to monitor park traffic in a real-time manner? Can we crowdsource information such as determining what spots are shady vs not? These are bottlenecks to consider when realizing the final experience.
Our research provided the opportunity to kickstart our process of development. During our interview process I learned the importance of observing in addition to listening. It was clear users were not excited about the prospect of ever visiting the Park's website. I hope my final designs would alter the misconceptions of tediousness in relation to government websites.