"ModMath" is an educational application that assists students with dyslexia and dysgraphia who struggle with numerals formation and mathematical notation, which can be astounding for the development of mathematical capability over a lifetime. This assistive technology application was invented and developed by Dawn and Josh Denberg for their son suffering from dyslexia, dysgraphia, and ADHD.
It is assistive technology focusing on the social and functional solutions model of disability because it intends to make these functionalities accessible to the users. It is compensating for special teachers and special schools for children with learning disabilities at all times. It is a useful and good inclusive design for students with learning disabilities like dyslexia, dysgraphia, ADHD, handwriting issues, fine motor issues, mobility issues and autism who can't write and organize math. For them, it is a challenge to even hold a pencil in hand. This accessibility tool allows them to access and enhance their mathematical skills through writing applications. It benefits the level computational playing field for them, which they may otherwise misalign or incorrectly form numbers.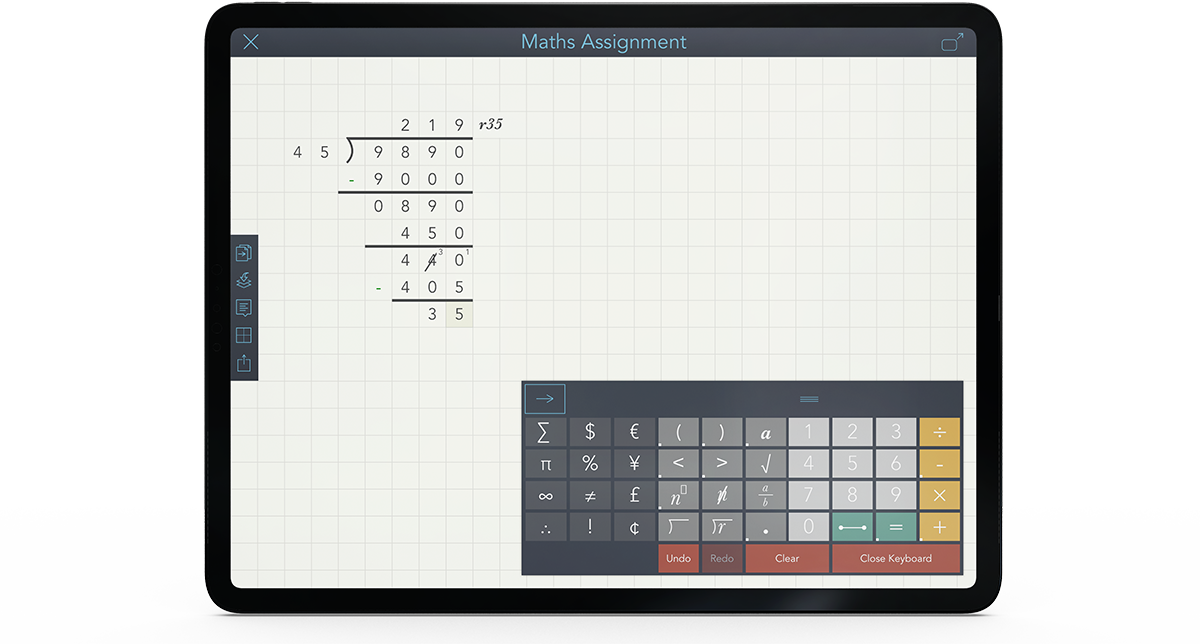 This app offers a modernized, multi-sensory approach for kids with messy handwriting, and it lines up problems which get visually overwhelmed. This feature is an example of utility and desirability. It enables them to write and solve math equations on a piece of virtual graph paper with the help of this app's custom touchscreen keypad without the need to write with pencil legibly. It reduces the stress of fine motor deficits and allows one to use the keypad to write math problems. It doesn't have any additional supports or guides and no sound or voice to text capabilities. This app aims the user to work more quickly with less strain and greater focus.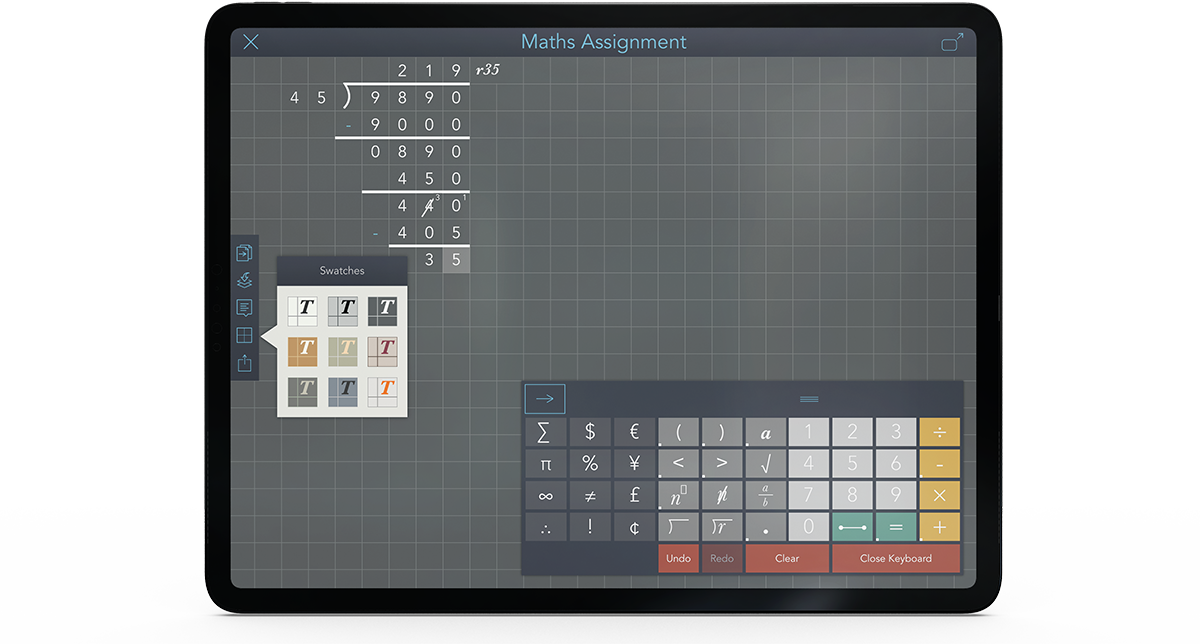 ModMath's settings allow the user to use a variety of color variations and accommodate them with color blindness. The users can move the touchscreen keypad anywhere, but it has limited features except ModMath Pro. It has features to do basic arithmetic including addition, subtraction, multiplication and division, but can also handle complex algebraic equations including long division and multiplication to variables and quadratic equations. It helps communicate written information or their thoughts to their teachers. It features the ability to input worksheet or textbook strategy, print, email and save to cloud services. In addition, it allows you to save the documents in the searchable document library and access them at a later time.
ModMath is accessed through an iOS app for iPad only, but it will provide compatibility with Android tablets and Chromebook in near future as the team is already working on it. This app is cost free with limited features, but ModMath Pro with enhanced functionality for educators and students costs $4.99. It is included to make the teacher's worksheet easier and give comments with the works. It may provide both characters and numbers keypads. ModMath Pro has better compatibility than ModMath.
Overall, ModMath is not so popular as it is only for Apple users, however it is an affordable and progressive technology for math students with dyslexia and dysgraphia, who are struggling to stay focused, write and organize their work. It saves time and frustration. The application is moderately developed for other compatibility like desktop, android tablets for a long time. On the job, the team is to create a Chromebook version to reach out to more people with learning disabilities, but they have their limitations.
Here is link of ModMath: https://www.modmath.com/
Video of ModMath: https://www.youtube.com/watch?v=gNNa-jr1JPI