What is a diary study?
A diary study is a daily log of activities that you get a user to keep over an extended period of time. Users might need to take photos or videos to explain their activities and highlight things that stood out to them across the course of their day.
We run diary studies as we see more of user habits and behaviors over a given time-frame usually in the users daily lives. This is important, as people often forget the day-to-day things that matter most to us as researchers. So the extended time allows us to monitor habits for a longer timeframe than other techniques such as in-lab user testings and remote user testings.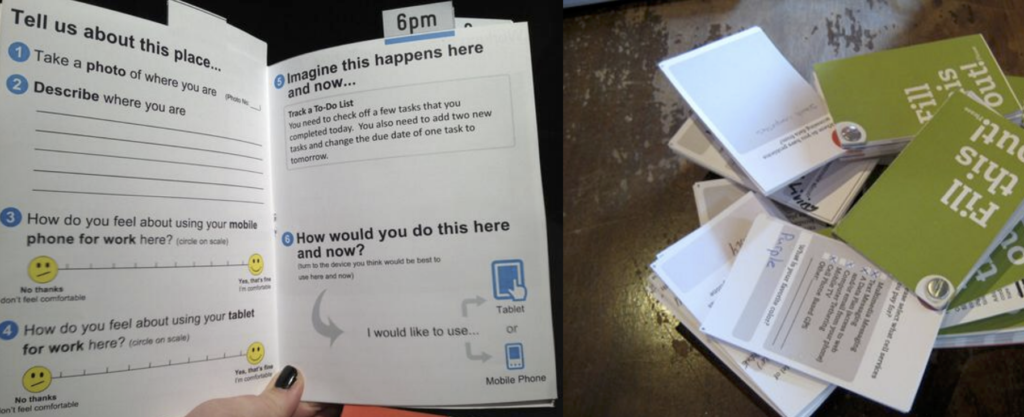 things we can learn from the diary study
If you're looking for a contextual understanding of user behaviors and experiences over time, diary study is exactly what you needed. It can also be useful for understanding long-term behaviors such as:
Habits — What time of day do users engage with a product? Any repeated behaviors?
Usage scenarios — In what capacity do users engage with a product? What are their primary tasks? What are their workflows for completing longer-term tasks?
Attitudes and motivations — How are users feeling and thinking?
Unplanned or Sporadic — Understanding rare and infrequent events.

Tools can be used for recording

From video and audio, text or email, online diaries tools or even papers! There is no such setup ways to conduct a diary study, but to choose you and your participants are most comfortable

A diary study about stress using a spreadsheet

Research Process

1. Planning and preparation

For the activity you want to study, write out the research questions, detailed instructions and resource materials to help your participants understand what type of data you need and how to report this data to you. The questions should combine both qualitative and quantitative questions to collect data from various aspects.

2. Pilot Pre-study Brief

The second step is the pilot-study brief. Schedule a short kickoff call with your participants to help them understand what's expected of them.

3. Pilot logging period

Select a designated time period for participants to report these interactions to you. Also be sure to monitor these insights as they come in and ask clarifying questions to fully understand the context of their experience.

4. POST STUDY INTERVIEW

Schedule a time with these participants to discuss their experience as a whole, and ask any final questions you may.

5. DATA ANALYSIS

Look for points of friction in the customer journey. Find opportunities to improve the entire customer experience by addressing key points of friction that you observed as they completed activities. 

Do's and Don'ts

For do's

Set proper expectations. Let participants know what will be required of them and how much time they should commit to completing the work. Clearly defining the activities and diary schedule will aid your participants in completing the activities in the timeframe you've designed and should result in more accurate and thoughtful feedback.
Ask a mix of quantitative and qualitative questions. The ultimate aim is to find the answers to your research objectives it's important to get a mix of data points. Your quantitative data will help you understand success and failure rates and satisfaction ratings. The qualitative data will help you better understand what is causing those problems.

For don'ts

Assume participants will dedicate as much time to the study as they can. Participants may show signs they are giving less effort (simple one-word answers, skipping questions, lagging behind, etc.). Reach out to these participants and see if they can expand their thoughts or encourage them to complete late activities when they can.
Ask too many questions. Participant fatigue is real. As participants progress through diary study help ensure they continue to devote quality time and maximum effort by asking the appropriate number of questions. 
Overcomplicate the implementation of your activities or questions. Keep the schedule simple so participants can focus on completing the activities and providing quality answers. It is very likely that your participants will have different schedules so give them the freedom to complete activities when it best suits them.

Conclusion

This methodology allows researchers to collect contextual information about the customer journey as its unfolding. You'll be amazed what kind of insights you'll uncover by looking at your customer experience under this!

Reference

https://www.nngroup.com/articles/diary-studies/
https://usercenteredstartup.com/ux-mini-lesson-diary-studies/
https://uxmastery.com/diary-study-extending-ux-research/