If you live in New York and cook frequently, it's easy to run out of limited kitchen space as you accrue appliances. The Instant Pot Duo Plus is a pressure cooker advertised as a nine-functions-in-one miracle—ready to solve all your culinary woes. This versatile device works as a slow cooker, steamer, saute pan, rice cooker, egg cooker, yogurt maker, warmer, and sterilizer. In this review, I draw from Don Norman's design principles to evaluate the Instant Pot Duo Plus.
Design Strengths:
As mentioned, the Instant Pot is replete with culinary affordances, allowing the user to prepare numerous dishes. The design is compact and easy to operate safely.
With many pressure cookers, you can end up with a scalding explosion of food if a novice user accidentally opens the lid before the steam escapes. However, the safety features on the Duo Plus are exceptional and intuitive. When you close the lid, a descending tone emits to indicate that it is ready to begin pressurizing. This is excellent feedback that clearly indicates the system's status. Additionally, it is impossible to open the device while pressurized due to a steam locking system. This is a great example of a forcing function born from physical constraints. One must push a button to release the steam from the lid before the device can be opened — indicated by a lovely ascending chime. The audible tones that indicate whether the lid is opened or closed are essential feedback for the user.
Design Weaknesses:
Unfortunately, in my kitchen, most features other than pressure cook go unused. With so many affordances, it is a shame that the Duo Plus has an overwhelming interface that can preclude many users from developing confidence in their mastery of the device.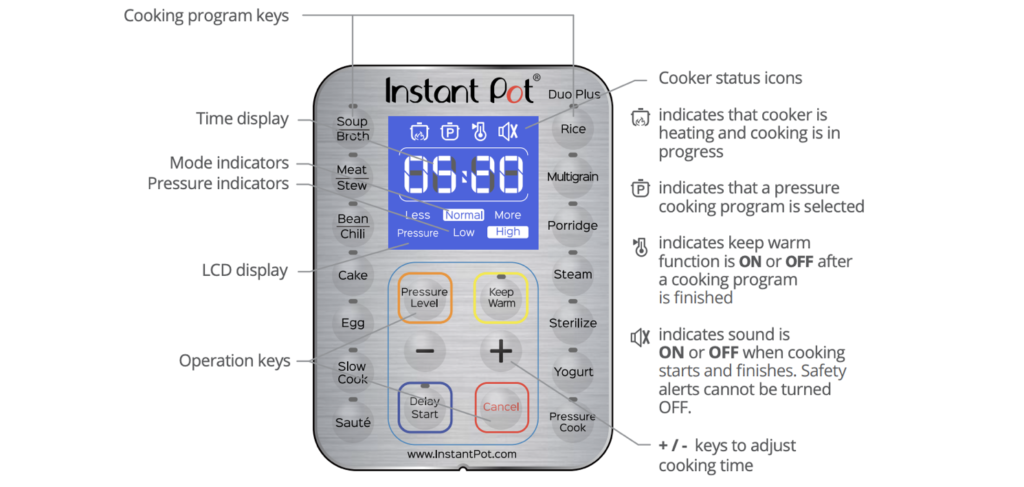 Each of the labels around the perimeter is a button indicating various cooking functions. In the center of the screen, there is a timer with icons to indicate function status. Although this array of signifiers seems impressive, there is very little to confirm whether or not the user will achieve the correct temperature or pressure over time (and, due to the physical constraints, it is impossible to open the Duo Plus, check the meal as it is cooking, and make adjustments). This can lead to an unfortunate surprise — overcooked or undercooked food. This is a problem where users cannot bridge what Norman calls the "gulfs of execution and evaluation." It is simultaneously difficult to understand how to bring about the desired outcome, as well as understand exactly why your food ended up mushy or raw. To add to the confusion, ingredients are subjected to heat as the system pressurizes (but before the timer starts), so for certain vegetables, you should set the cooking time to zero minutes. This design requires the user to outsmart the device before the cooking even begins!
Instead of providing a way to fine-tune precise temperatures and pressure levels, there are only two ways to adjust the settings: two pressure levels (low, high) and three modes (less, normal, and more). Without referring to the user manual, it is impossible to know exactly which setting to use in each specific instance. Included below is a small sample of program options from the manual. There are several pages just like this one, making the manual an essential (but imprecise) facet of operating the Duo Plus. Because of this, many users like myself settle into a position of learned helplessness and just stick to the main pressure cook setting.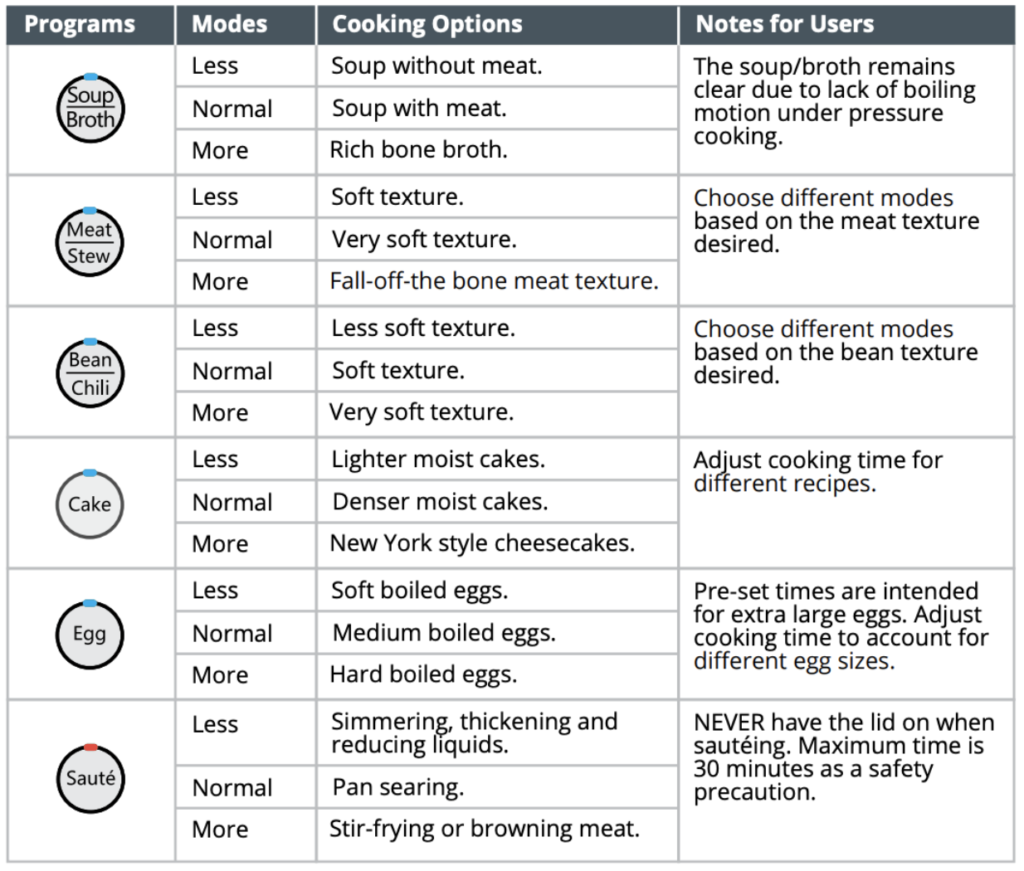 Recommendations:
A reimagined interface would improve these issues. One of the keys to good cooking is precision; by removing the overwhelming program options and replacing them with a customized way to control temperature and pressure, the various functions would become much more discoverable for most users, and potentially render the manual an unnecessary reference.
To improve the Duo Plus, a dial that adjusts temperature and pressure could be implemented. By locking in customized settings, it would become much easier to adapt for recipes that prescribe a specific temperature or pressure level, rather than rely on guesswork. This layout would mimic the conceptual model of an oven, sous-vide, or similar appliance with which the user is already familiar.