KOMP is a one-button computer designed by No Isolation, for the elderly to be able to connect with their family members. KOMP is primarily a communication device for their families that allows them to share photos of their day-to-day lives, send messages, reminders, and make video calls. By giving the elderly access to these technological advancements, KOMP touches upon the social model of disability.
KOMP's aim is to ensure that those in later life don't have to experience loneliness because of their lack of technological knowledge and that communication between generations across the family is seamless and continuous

– Karen Dolva (Source: Elder.org)
Introduction
According to Age UK, more than 3 million people in the United Kingdom live alone with about 1.9 million feeling ignored. Additionally, a report from The Alzheimer's Society revealed that about 800,000 people in the UK over the age of 65 suffer from dementia- making it difficult for them to learn new technology.
Though people who are aging do not label themselves as disabled, according to the ADA, having a "physical or mental impairment that substantially limits a major life activity" means a person has a disability.
You look at things that are on the internet and it's skewed towards not my demographic. The younger people, this is their medium. People my age did not grow up with it. People my age are not in charge of it. Online, there's a quest to be cool and old people are not necessarily cool

– Usability for Seniors: Challenges and Changes (Source: Nielson Norman Group)
By targeting the audience above 80+, the following key issues were taken into consideration:

Product and Features
KOMP is a one-button computer with a large 21" screen, an inbuilt camera, microphone, and loudspeakers. Resembling a stereotypical radio from the 1960s, it includes a single button (sized to accompany the average handgrip) and a white area to bring about contrast. It also makes use of an LED strip to indicate volume amplification and also notify the user when new content is available. The design of the product thus takes into consideration people with age-related impairments like declining vision, hearing, and cognitive ability.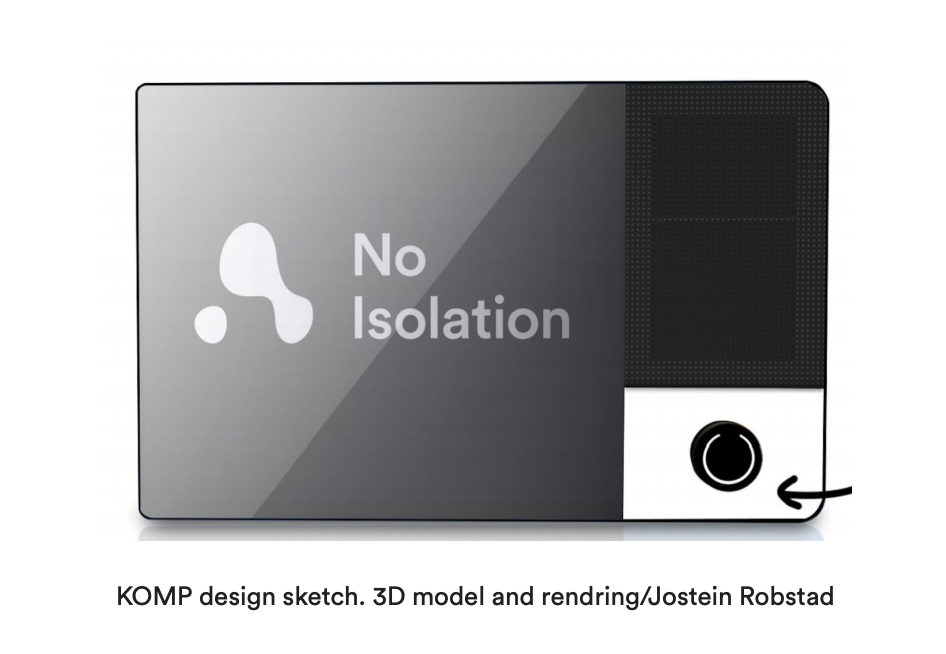 The KOMP can be connected to WiFi or an in-built 4G SIM. It does not make use of a touch-screen that older people may struggle with. There are no usernames, passwords, or updates required.
Receive calls
When the KOMP is turned on, no action is required from the user's end to receive the calls. The calls are answered automatically within 10 seconds. If the user does not wish to answer the call, the KOMP can be turned off.
SENDING MESSAGES/PHOTOS
To send photos, messages, and make video calls, the KOMP app (Compatible with both Android and iOS) needs to be downloaded. Once connected, friends and family members can be invited, making it a closed social media network. It also ensures security, thus hints at the Human Rights-Based Model of Disability, as only the invited friends and family members can send content to KOMP.
Gives the user the opportunity to keep track of our daily lives even though (name) is not on social media. The user feels that we keep him/her in mind and feels "seen".

– Family Member (Source: How and why we made KOMP)
Pricing
The KOMP is fairly priced and available to rent at 39 GBP(~55 USD) per month or to purchase at 599 GBP (~830 USD).
Reflections
The KOMP can serve as a powerful tool for the elderly making them feel more involved in the lives of their loved ones. By having a high-quality large screen and powerful speakers, it can aid the elderly who may suffer from diminished eyesight and hearing. Not only that, the use of the device is pretty straightforward, making it easy for the user to receive calls without having to do anything and just switch the KOMP off in case a call needs to be rejected.
On the flip side, however, the setup for KOMP to invite family and friends involves the use of an Android or iOS app which may be tricky. Additionally, it does not offer additional accessibility features. For example, there is no way to enlarge the text on the screen or a text-to-speech or captioning functionality. The KOMP at present can only be used to receive (calls, messages, images) which may be an attempt to make it as less complicated as possible but this can also limit its usage and functionality to a certain extent.
References
No Isolation – KOMP
KOMP, a one-button computer for seniors: Your Questions AnsweredThe One Button Communication Device Designed Specifically For Seniors
Usability For Senior Citizens
Reducing Loneliness and Social Isolation: How No Isolation is Challenging Loneliness in the Modern Age
How and why we created KOMP
Old Users and Web Accessibility: Meeting the Needs of Ageing Web Users