As I go about my daily life, an assistive technology that stands out to me is MTA's contactless payment option, OMNY. Through OMNY, passengers riding the subways and busses can pay the fare through a variety of credit and debit cards and devices like cell phones and smartwatches that support contactless payment options.
To pay their fare through OMNY, passengers tap their contactless cards or devices on the OMNY reader, unlike a MetroCard or ticket that needs to be swiped, and they are good to go. This contactless feature, as well as other features discussed below, enhances OMNY's accessibility, usability, and compatibility, and thus makes it an accessible product.
Although it is not touted as assistive technology, there are certain features of OMNY that allow it to be used by people with various disabilities:
Contactless payment
Under the Social Model and Functional Solutions Model of disability, the contactless payment feature of OMNY makes it accessible because it assists people with permanent disabilities (missing limbs, lack of fine motor skills), temporary disabilities (broken arm or hand, other injuries), situational disabilities (carrying a heavy load, both hands full, etc.) to pay their fares simply by tapping their cards or devices on the OMNY reader instead of swiping a card through the card reader that requires one to have a free hand.
visual and auditory cues
The OMNY reader gives clear visual and auditory cues that let the person know the current status: If and when the payment is accepted and if they should proceed forward. This feature aids people who are hard of hearing or visually impaired. As per the Social Model and Functional Solutions Model, this feature makes the product accessible to a larger group of people.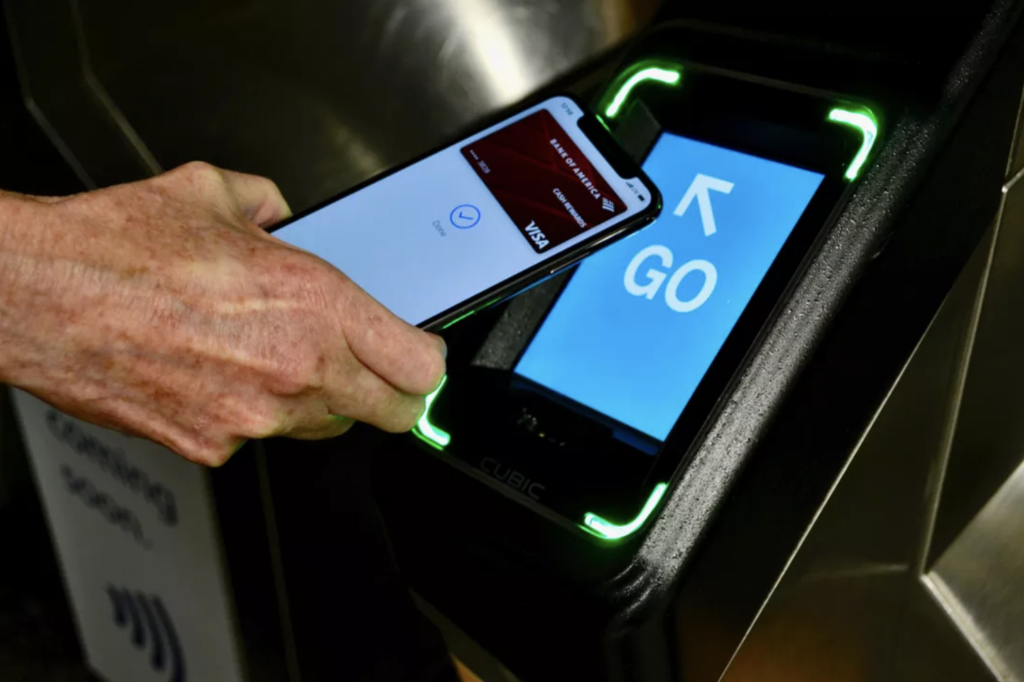 Compatibility
Aside from these two features, another feature that makes the product accessible is its compatibility with different devices (under the Social and Functional solutions model). People can pay from a variety of contactless credit/debit cards, as well as contactless devices such as cell phones and smartwatches. This allows OMNY to be used by a large group of people.
So, is OMNY truly accessible then? While there are features of OMNY that allow it to be used by people with varying disabilities, there are certain limitations that might prevent other people from using it. One of them is that it currently does not support reduced fares as well as fare options for a MetroCard such as weekly and monthly passes. This will pose a limitation for people who are not able to afford the full fare or rely on the MetroCard weekly/monthly passes. However, according to the OMNY website, reduces fare options will be onboarded in OMNY by the end of the year and other fare options similar to the ones available for MetroCard will also be rolled out soon as well.
In conclusion, while features like contactless payment, visual and auditory cues, and compatibility with various devices make OMNY an accessible device under the Social and Functional Solutions model of disability, its inability to support reduced fares and options like weekly and monthly pass limits its use to a certain group of people. Hopefully, once the reduced fares and other options are added to OMNY, its accessibility will be enhanced further.
References
https://new.mta.info/system_modernization/omny
https://www.cnet.com/tech/services-and-software/apple-pay-is-now-your-ticket-to-ride-new-york-mta-subways-buses/
https://abc7ny.com/nyc-subways-subway-mta-metropolitan-transportation-authority/6319354/
https://www.ny1.com/nyc/bronx/news/2020/07/16/mta-says-omny-fully-online-in-bronx-subway-stations