Overview
The Urban Fellows Alumni Association is a non-profit organization for the former participants of the New York City Urban Fellows Program. While the organization aims to sustain a network of alumni to support them socially and professionally, its current website doesn't align with its goals. This project's goal was to create a sense of community for NYCUFAA members through a seamless web experience. Effective qualitative/quantitative research helped us find ways to involve former NYC Urban Fellows with the organization by identifying their needs and expectations. Considering the key insights, we introduced 2 sections to our final prototype – "Meet our Alumni" & "Jobs Board".

The Challenge
How do we enhance alumni engagement with the organization?
NYCUFAA is an organization that works towards reconnecting and engaging former participants of the Urban Fellows program. The organization was established in 1975, while it based its online presence in recent years. Hence, many former participants of the Urban Fellows program are unaware of their existing website. The organization's primary goal was to enhance the reach of its website while encouraging more users to get involved with the organization.
In our first kick-off meeting with the NYCUFAA team, they walked us through their current website and highlighted some of the existing issues in the website preventing them from meeting their goals.
Objectives
During this kick-off meeting, the team expressed their expectations which helped us set initial objectives for this redesign.

The Solution
Introducing " Meet our Alumni" & "Jobs Board"

Interact with the prototype!
Clickable prototype – Desktop
Clickable prototype – Mobile


RESEARCH
Getting to know our users & understanding their expectations
Our target users for this project were the NYC Urban Fellows Alumni. We reached out to these alumni over Linkedin and contacted them to conduct a brief interview session over Zoom to understand their needs and expectations. 8 participants were asked 10 questions, and each interview lasted for approximately 20 minutes.
Research Goals
For conducting user interviews, we listed our research goals in considering our project's objectives.
Understanding the users' motivations for being involved with this organization
Understanding channels users use to generally stay connected with their peers
Understanding how they connect with other alumni
Understanding their expectations from an Alumni website
Users' Perception or famililarity with the current website
Analysis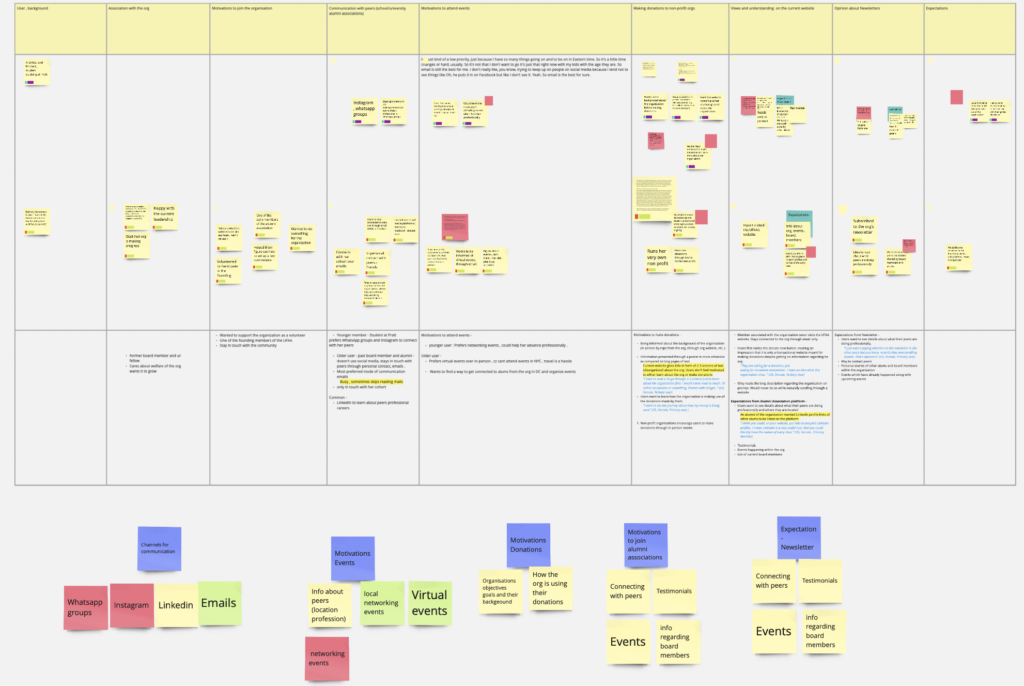 We used affinity mapping for analysing our user interview notes. The findings were divided into 6 broad categories for the purpose of this analysis :
User's background
Their association with the organization
Their motivation to join the organization
Communication channels most frequently used
Their motivations for making donations to a non-profit/ prior experience with making donations
Their expectations from an alumni website
Findings

Our qualitative research was more inclined towards understanding the users' expectations from an alumni website than on their perception of the current NYCUFAA website. By asking questions that gave users the freedom to express their personal needs and expectations, we were able to derive some powerful insights from our research while validating our initial objectives.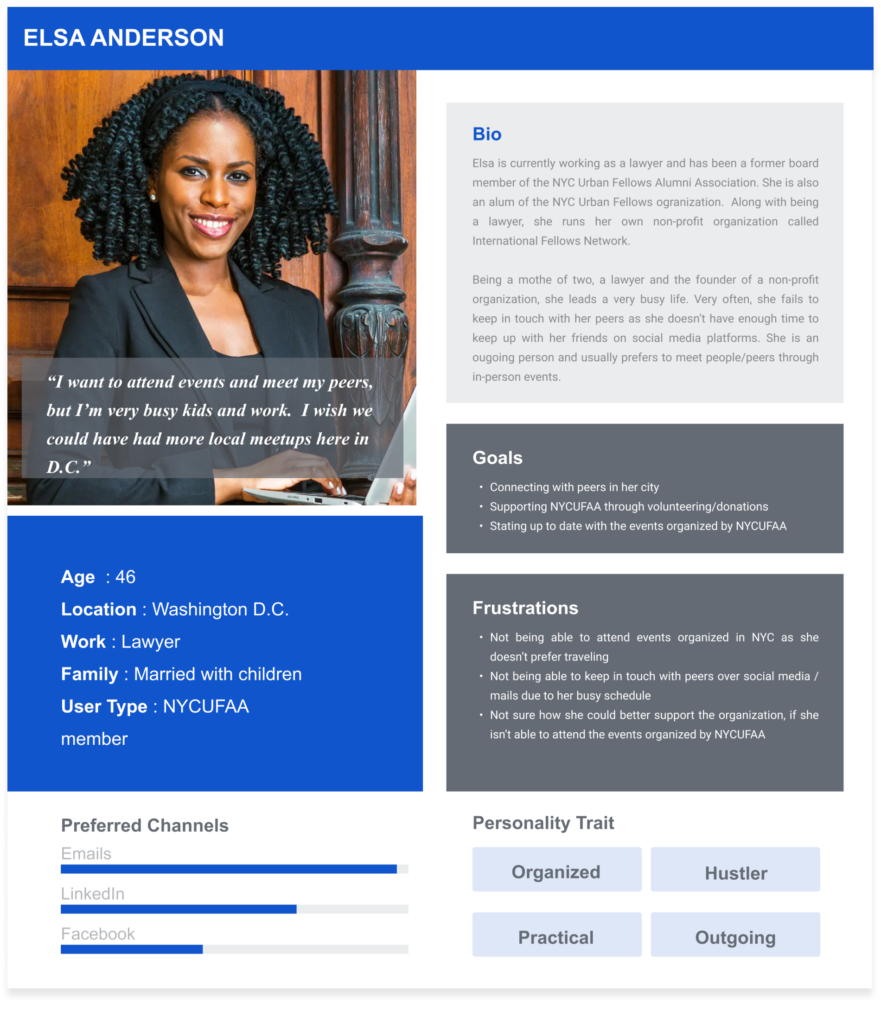 Insights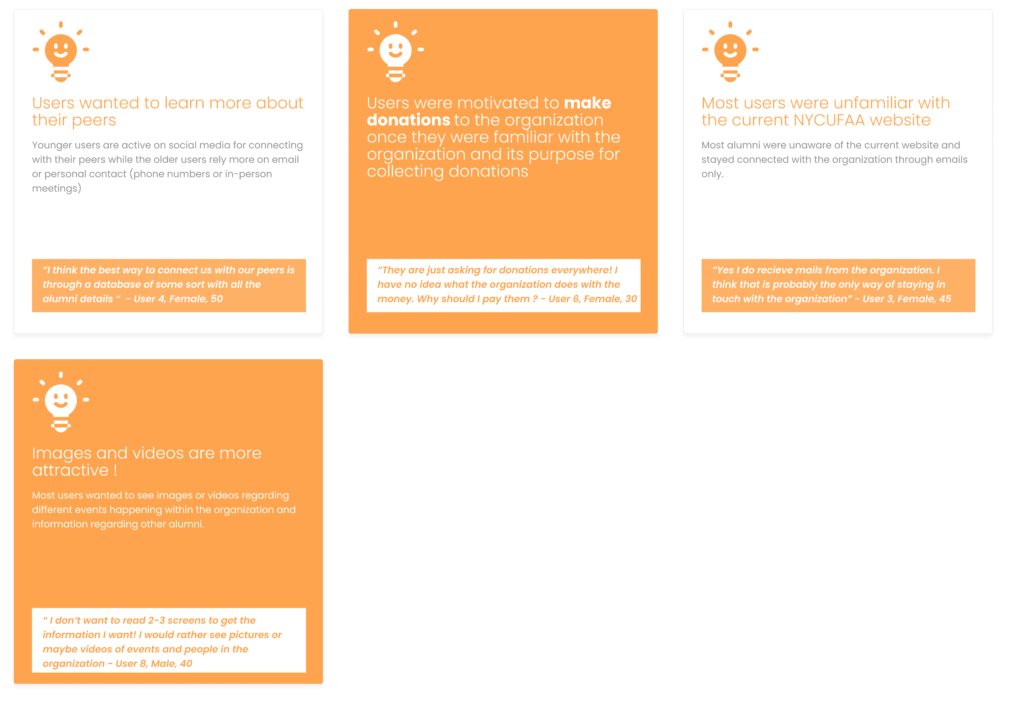 Enhancing the Information Architecture
Simplifying and streamlining the site's navigation
For enhancing the current information architecture we followed a 3 step process :
KEY DECISIONS

To protect the NYCUFAA member's information and details, Searchable Directory page introduced in the "Meet Our Alumni" section would be accesible only by the logged in members.
Since the Jobs Board was introduced to support the organization's members professionally, it was decided that this section would be accesible only by NYUFAA members once they had logged in.
To further enhance the discoverability of the most preferred content items (Insight acquired through post-testing questions – Tree Testing) , small snippets of those sections with relevant CTA's would be provided on the Home Page of the website
While structuring our content the key idea was to align the site map with the organization's objectives and the research objectives defined by our team ( through user interviews ).

Revised Site Map Wireframing & Iteration
Brainstorming Design Solutions : Connecting Alumni with their Peers
Wireframes
User Testing Mid-Fidelity Prototype
We conducted our first round of user testing with 5 particpants to evaluate :
The revised site map's navigation
The categories defined
The labels used
Each Participant was assigned 3 tasks.

What Worked
All users felt the task flows matched their expectations
Al users felt schemes and layouts used through out the prototype matched their mental model
All users felt that labels clearly represented all content items
All users were satisfied with the Meet Our Alumni section
"I feel it's very easy to understand how to use the Alumni Directory because the page's
layout matches the industry standards. I am familiar with similar interfaces" – User 3
"The Alumni Directory looks clean and familiar. I feel information retrieval is quick and
easy. All the relevant information has been provided and is clearly visible" – User 1
What Didn't Work ?
3/5 users disliked the structure of the Landing Page in the Job Board section . They felt they struggled a little to find relevant information
One user felt Post a Job form for mobile was incovenient since they had to go through multiple scrolls for filling up a long form.
How we fixed it !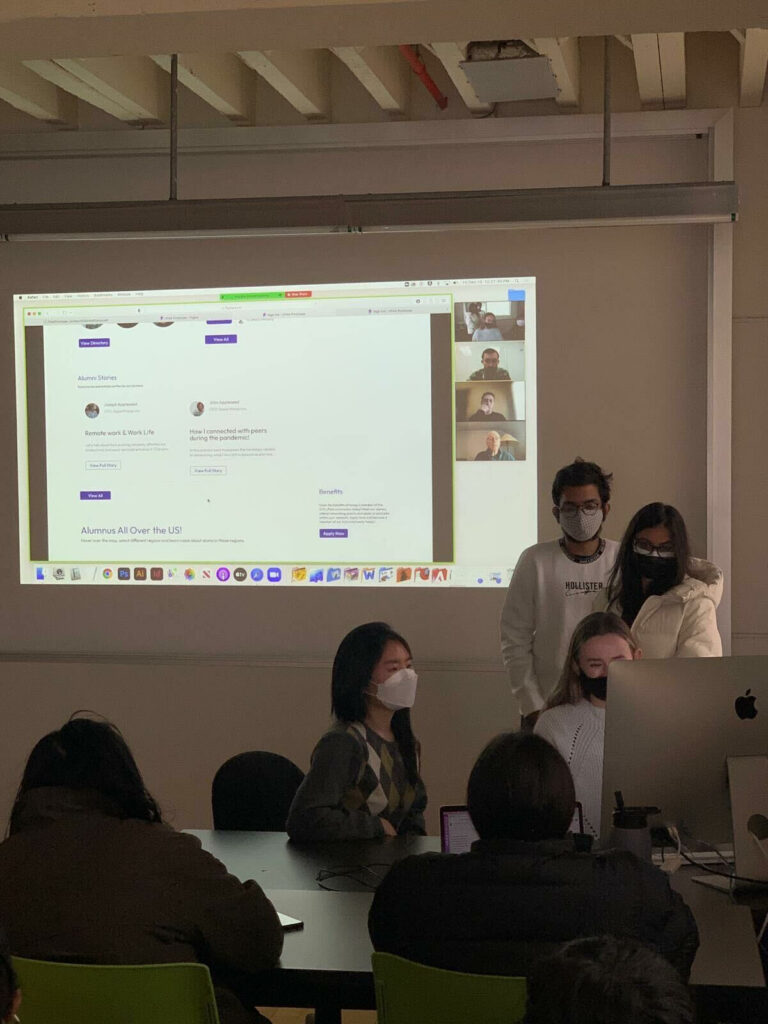 Our team presented the final prototype to the clients over a Zoom meeting. We walked them through our prototype while explaining to them our concept. The NYCUFAA team was very impressed with our concept and design decisions and felt this redesign would drive the website in a new direction. The team was exceptionally impressed with our Jobs Board section as one of the members expressed, " A Jobs Board! This is exactly what we wanted !"
Takeaways
While we delivered this project effectively as a team, this project has helped me evaluate and validate the skills I possess as an individual contributor.
Conducting remote user interviews was a new experience which further helped me build confidence and better my communication skills.
Next Steps
I would like to incorporate the feedback derived from the first round of user testing and client's review to take the following steps :
Conduct another round of evaluation tests to validate key decisions made in the final redesign.
Enhancing the usability of the website for older users. This would further encourage their engagement with the organization through this website.