Rover is an iOS app that allows users to find trusted caretakers for their pets. The services include doggy daycare, dog walking, drop-in checks, and pet sitting. The primary core functions of the app are its use as a messaging platform between customers and sitters and its booking capabilities. 
Overview
While Rover is not the first of its kind, it serves as a primary example of Norman's concept of the "right time" for a piece of technology to be released. Rover is the most popular app on the market today even though it surprisingly was not the first one on the market. In fact, one of its primary competitors, Wag!, was first released 7 years ago back in 2015. Though there are slight differences in the designs of both apps, payment structures, and services offered, the largest difference may be that Rover was released in 2020 when the COVID-19 pandemic and corresponding shutdowns brought many external factors that could have contributed to the success of Rover. Additionally, Rover has also made many design decisions to increase comfort and ease for its users.
Home Dashboard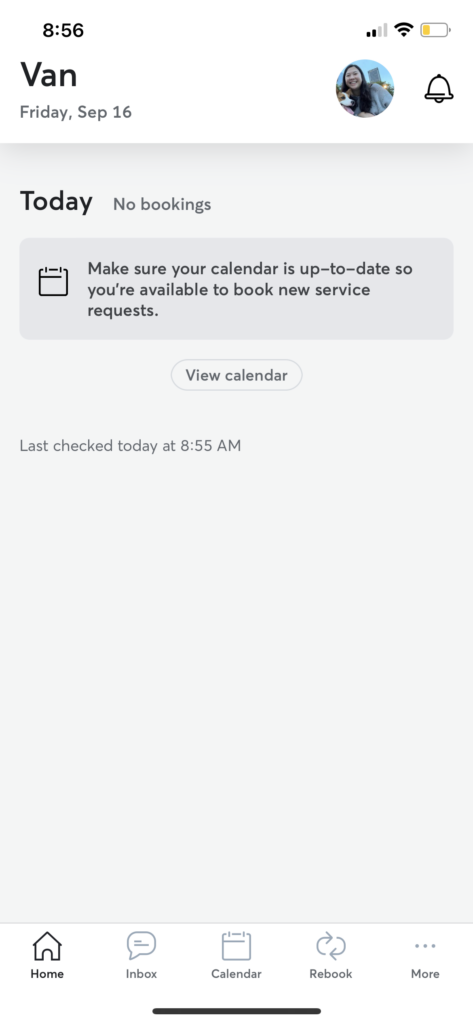 Rover thoughtfully uses a digital constraint that directs the user to the Home tab immediately upon opening the app. If users do need to use another function of the app, they may do so via the other signifiers on the navigation bar. This constraint eliminates any fumbling to find the right tab to check something like what time you booked your doggy daycare for that day, especially if you may be already having a busy day at work.
However, this function's design may be too constrained, limiting its utility. For example, if you don't have any bookings for that day, it'll require extra time to get to your intended destination due to the auto-Home screen constraint talked about previously. It may be helpful if the dashboard shows a week of your upcoming bookings rather than a day.
Inbox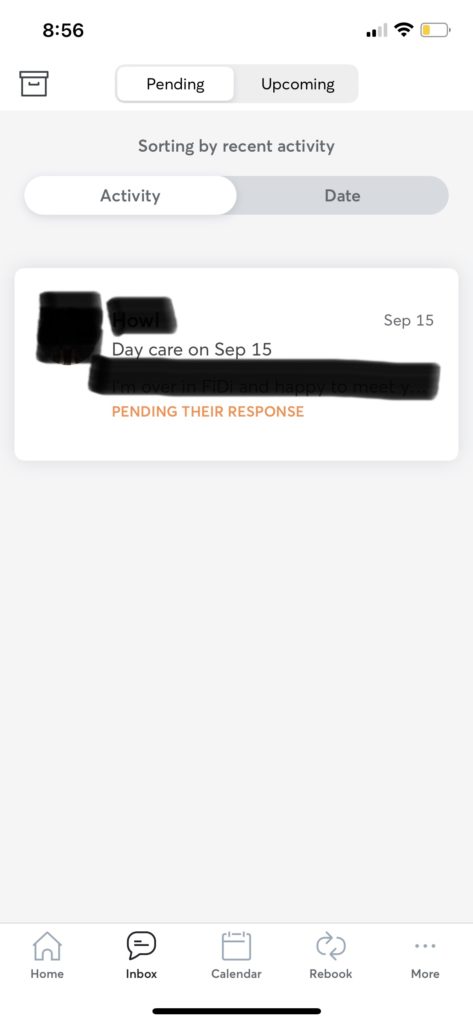 The inbox is separated into "pending" and "upcoming" bookings between clients and sitters. There is nothing different between the two modes from a visual perspective besides the messages displayed and whether it says "pending" or "upcoming" at the top. Due to the extreme similarity between the two modes, this leads to many mode errors. Often, I don't remember whether a booking has been accepted or not and will frequently switch between the two to find the right client's message thread, also outlining a memory lapse error.
This issue could potentially be remedied by eliminating the two modes altogether. As each message has a highly visible status label, the two modes are not necessary. However, what may be beneficial instead is having two distinct message modes for clients and sitters. Many users of the app are both clients and sitters. Having both types of messages in the same inbox may be confusing and leave room for memory lapse errors. For example, if you're looking for someone to dog-sit for your dog, you may accidentally pull up the message thread of someone you've walked a dog for instead. 
Rebook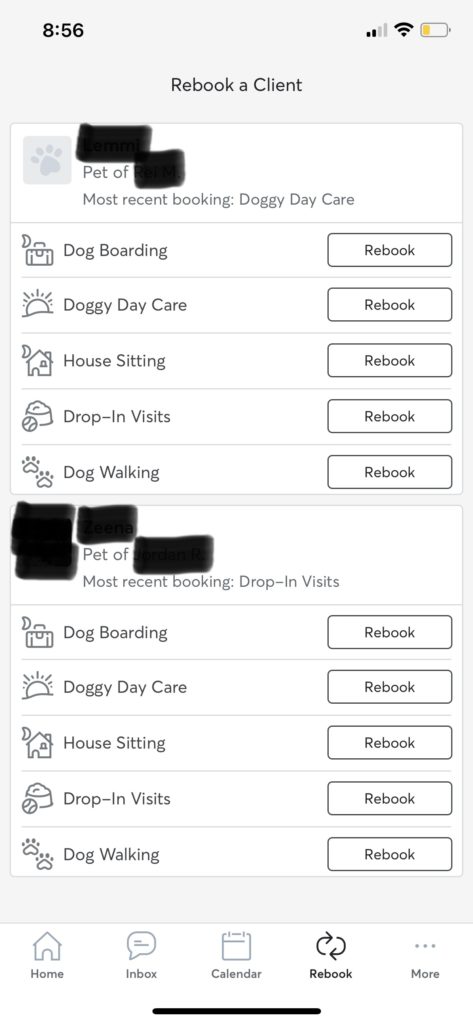 Rover encourages its users through its design to rebook and thus build repeat relationships between clients and sitters. The function utilizes mapping to show your most recent clients (with most recent ones being at the top), and allows you to quickly rebook services with them. The only suggestions to this function that may be beneficial are possible search, sort, and filter functions for those who have been providing services on Rover for a while as they may have a larger list to scroll through. Additionally, for those users it may also be beneficial to move the list of services to the "Rebook" screen or allow for collapsibility and just provide the list of recent clients to maximize screen space. 
Conclusion
Overall, while there are always improvements that can be made to any app, Rover does a great job of exemplifying Norman's ideal of the "rise of the small". Apps like Rover give power to individuals to make money, dictate their own time and schedules, and have flexibility all by working with technology to facilitate human connections and relationships– with a few pet friends added!