Overview:
As a non-profit organization that supports artists, Creative Capital understands the significance of having a strong online presence to expand its reach and engage with potential donors. In our report, we focus on Instagram and website traffic from March 2022 to March 2023, and our team aims to increase visibility and attract new supporters who align with the organization's mission to amplify artists' work. To accomplish this goal, we had the pleasure of working with Aliza Sena, Director of Editorial and Digital Content, and Priya Gandhi, Manager of Digital and Editorial Content. We plan to utilize social media analytics and content strategy to optimize their online presence and improve donor engagement.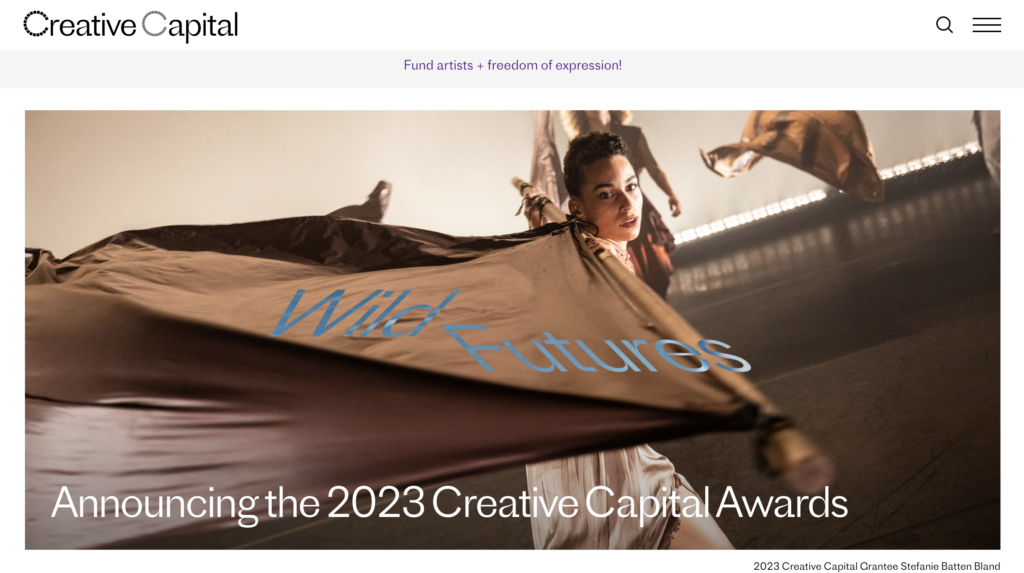 When I worked with Creative Capital, I noticed that their Support page lacked specific impact metrics and success stories, which were necessary for demonstrating the tangible outcomes of their grant-making program. This led to a lack of engagement with potential donors, which affected the organization's ability to raise funds.
Goals:
My role for the project was to optimize the Support page's content strategy and benchmark it with Art 21 and the Center for Book Arts, two non-profit art organizations that are also based in New York.
Process:
Our process started with a kick-off meeting with Creative Capital to identify their needs, objectives, and target audience. Our client would love to focus on increased engagements, especially for the Support page. My team conducted dashboards in Look Studio and gathered Instagram data from super metrics. We used digital analytics tools such as Google Analytics to gain insights into user behavior and identify areas for improvement. Based on the data resources, I developed a content strategy and recommended improvements to the Support/Donate page's layout, design, and messaging.
Results:
Finding 1: Path Exploration reveals low traffic to Support page
Through the Universal Analytics (Google Analytics 3) website data, we noticed that from March 2022 to March 2023, only 1,119 users viewed it out of the total 1,290,920 website viewers, which translates to only 0.09% of total website visitors accessing the Support page. And these low views for the page are consistent throughout the website data and highlight an issue in the website structure when it comes to fundraising and encouraging donations.

Finding 2: Findability of Support page is hidden by support posts for social causes
Within Creative Capital's website, the word "support" is used in two different contexts – one to financially support Creative Capital and the other to support social causes. The Support page provides information on how to financially support Creative Capital, however, this Support page received fewer views in the period analyzed than journal posts like "Resources & Ways to Support Black Lives Matter".
Recommendation for Finding 1&2: Use "donate" to refer to financially supporting Creative Capital & place donate button in the footer
The use of "donate" to refer to financial support for Creative Capital can help distinguish posts and pages for donations from those for supporting artists or supporting social causes. Understanding that users may become fatigued from too frequent calls for donations, we still believe in the value of "donate" as the appropriate vocabulary because it is so easily distinguishable from other forms of support. In lieu of synonyms for "donate", we recommend fewer, well-placed donate buttons across the website.
Finding 3: Donate page lacks impact metrics and visible social media share button
Recommendation: Show the social media share option by default and unify pages for Donate, Membership, and Support
The Creative Capital Donate page currently lacks several key elements that could improve the donor experience and encourage increased support for the organization, such as highlighting a social media share button on the donation page so that users can share the page in order to increase the visibility of the organization. The current social media share button is hidden by default behind an arrow icon and can be easily missed. The Art21 donation page includes straightforward social media sharing buttons, which allow donors to share their contributions on social media and encourage their friends and followers to give as well. Adjusting the social sharing buttons to be more visible may help Creative Capital expand its reach to potential donors.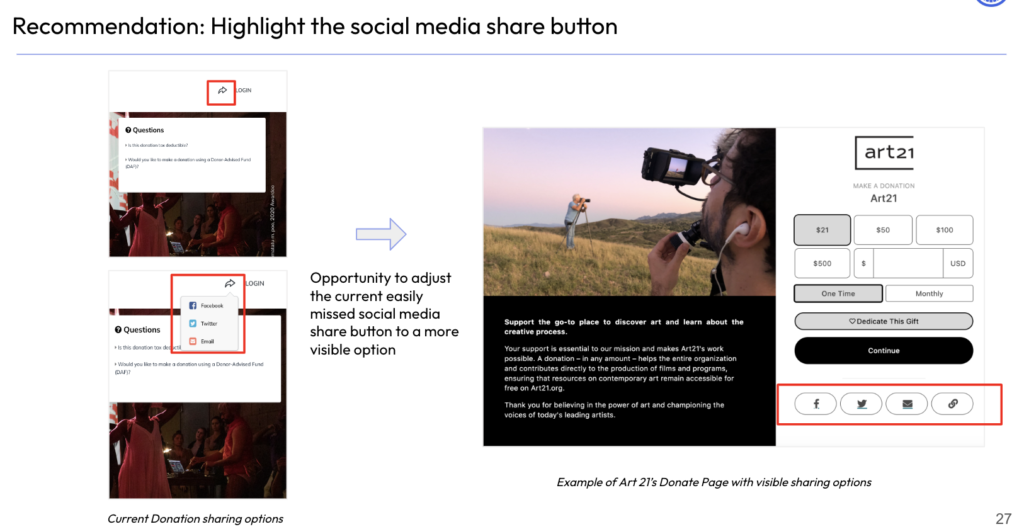 Another example is the Center for Book Arts, a non-profit organization dedicated to uplifting the book arts. The organization's Donate page is shown at the top of the banner and includes all donate-related content on one page. So, adjust information and links about the Supporters and Memberships pages into the Donate page, to provide potential donors a smooth navigation experience with more information on the different ways they can support the organization.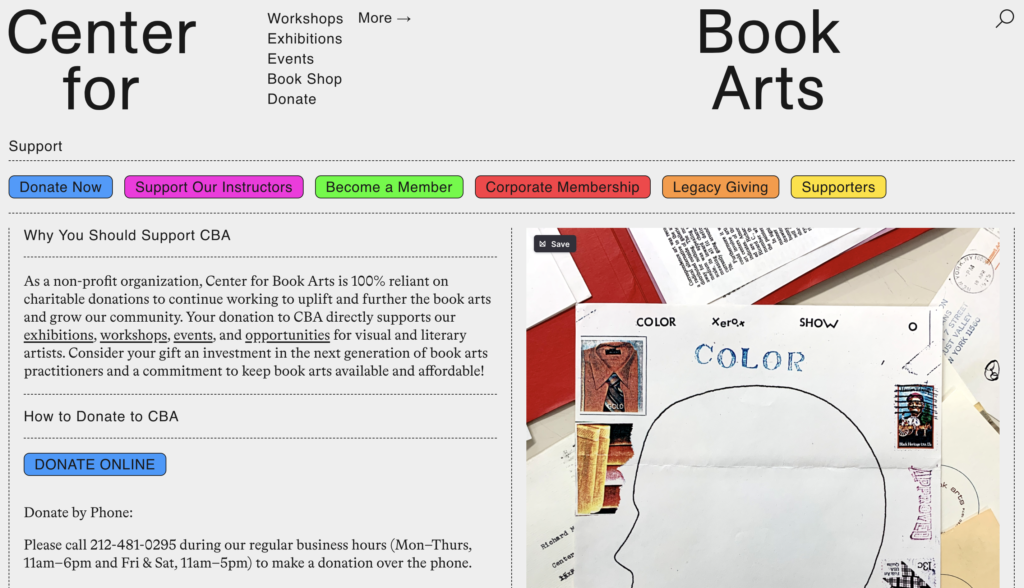 Finding 4: Surge in Instagram engagement in April 2022 due to the use of videos, carousels, and themed posts
Instagram engagement in April 2022 was 66% higher than the average engagement between March 2022 and March 2023. The analysis suggests that the use of visually engaging content and relevant hashtags played a significant role in driving higher engagement rates on Instagram. The finding indicates that the posts with the highest engagement rates are those that address environmental challenges through art, aligning with the Earth Day theme. By using relevant hashtags such as #environmentalart, #earthday, and #artandnature, the posts likely attracted viewers who are interested in environmental art and related topics, leading to a higher engagement rate.
Recommendation: Utilize dynamic content and data monitoring for Instagram engagement &Implement Google Analytics optimizations for future analysis
The organization should continue to incorporate visually engaging content and relevant hashtags in their Instagram posts. Specifically, we suggest that Creative Capital explore themes related to environmental challenges and use relevant hashtags such as #environmentalart, #earthday, and #artandnature to attract viewers who are interested in environmental art and related topics. We also recommend implementing a GA event to track the button click for newsletter sign-ups, as only the scroll depth on the newsletter page is currently tracked. While the newsletter form is eventually completed via Mailchimp, it is still valuable to monitor sign-ups via Google Analytics.
Conclusion:
In the break-out room, our client is very interested in our findings and our recommendations in terms of Support page optimization and Instagram content strategy. The next steps for the project may include ongoing monitoring and evaluation of the Support pages after redesigning the social media sharing button's effectiveness, further testing and optimization, and continued collaboration with the client to identify new strategies for increasing donor engagement. Major takeaways from the project are real-life and hands-on experience in working with clients and turning their internal needs into tangible outcomes.