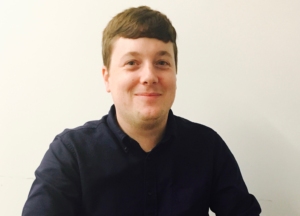 I recently sat down with Dante Meick, lead designer at Atlantic Re: think, the creative marketing department of Atlantic Media, publisher of The Atlantic magazine. As technology evolved, Dante learned the UX tools that would allow him to optimize digital experiences and other mobile products that give their users the best possible interaction with content.
Karen: Tell me what you do?
Dante: I sit at the intersection of technology, user experience, business strategy, content and brand. I need to bring all those pieces together and in the end create an elegant experience for the viewer, the Atlantic reader.
My work is driven by the conviction that design is essential to effective communication. I enjoy creating new visual experiences and solving design problems.
Karen: How do you approach a story?
Dante: The various teams involved, from the project manager and the pre-sales team to the content team and design, get together, review the client's goals and ambitions for reach and influence, discuss the kind of subject they're interested in covering, then conceive a story that matches their interest and ambition. Then or later, when we have the text and visual assets, we consider the form the experience will take, and then the best UX tools and forms to give the readers or users an intuitive, fluid way of getting around in it, consuming it the way we want them to.
Karen: Do you have projects you've particularly enjoyed working on at Re:think?
Dante: Re: think is relatively new. Clients come to us to tell their stories to the Atlantic reader, a brand that is known to have intelligent, engaged, and thoughtful readers. For this audience, the client is almost always asking us to sell their company's values and expertise to the world, not just talk about how successful they are. An example is JP Morgan, which funded the rebuilding of communities in Detroit. We were hired to tell the story of Detroit as it rebuilt itself from the ashes of deindustrialization and specifically the 2008 financial meltdown using photographs, video, info-graphics, and a deeply reported, multi-chapter article.
Karen: So how does this kind of "story telling" sell a business?
Dante: It's not really that different from brand advertising in a magazine. The main difference is getting some clients to understand that we don't do pure promotion or straight advertising, we do stories that they want to be identified with because good stories are the way to have impact on their customers that they want. We have to put readers first, because unless we do the story will not have the desired effect for our clients. Sometimes it takes a while to settle on the best way to serve their business strategy to the user experience, but we always do. Measured by the clients' own KPIs (key performance indicators), our stories work.
Karen: What advice would you give UX/UI student about entering the job market?
Dante: Make sure their portfolios show a variety of work and work experience. I'm looking for someone who can solve problems. It's all about solving problems.