When I first started to explore New York City since moving there for graduate school in Information Experience Design, I was struck by how much this city had influenced my life even when I was halfway across the world. So many of the books I read, movies I loved and scholars and artists I followed were connected to this city in one way or the other. I wanted to deeply immerse myself in the culture, history and architecture of New York.
It was, hence, quite fitting that for my Information Architecture and Interaction Design class, I got to work on a real-life design challenge for Urban Archive – a company working with the historical cultural institutions of New York. Urban Archive is a 'technology profit' which aims to connect organizations like museums and libraries with people exploring the city. They are doing this by aggregating the collections of these cultural institutions on one digital platform.
Our challenge was to re-design the UrbanArchive.nyc website
Urban Archive posed three different challenges to our class each aptly titled as an 'opportunity'. Each challenge was based on some specific goals of the company and linked to a different end of the company's digital products. The class was divided into three teams, each to work on a different challenge. I formed a team with Hao Ni and Lisa Burroughs from my class and decided to spend our semester on addressing Opportunity 3 – how to re-design Urban Archive's content website www.urbanarchive.nyc. Urban Archive gave us the following four goals as a direction for why the website needed to be re-designed.
The website should engage potential new cultural organization to join Urban Archive
It should clearly explain how organizations can partner with Urban Archive
It should introduce the platform and all the tools available within
It should accept and promote donations from the general public
It should be responsive for both mobile and web
Why have a website when you have an app?
The content website, of course, plays an ancillary role in the service of Urban Archive. For general public users, Urban Archive's goal is to get them to use the web app or the mobile app to start becoming an explorer. Similarly, for partner organizations the end goal is to get them onboarded to the Content Management System. The website primarily serves as the landing page for Urban Archive on the internet. This aspect highlights two specific challenges we faced throughout the project:
Which stakeholder do we design the website for? Do we prioritize partners over general public users? What about potential new partners over existing partners? Our approach for the most part of the project was that we would strive for a balance. That is, the website will address all the possible stakeholders.
How do we define any value provided by the website on its own in isolation from Urban Archive's other products? Or should our primary goal be to get all website visitors to click-through to exploring Urban Archive's app?
We followed the user-centered design approach to come up with our process
Our objectives were to start by building empathy with our users and understanding their context. Throughout the design project, we centered all of our discussions on what we learned about the users. The three stages of the process and the underlying steps are shown below.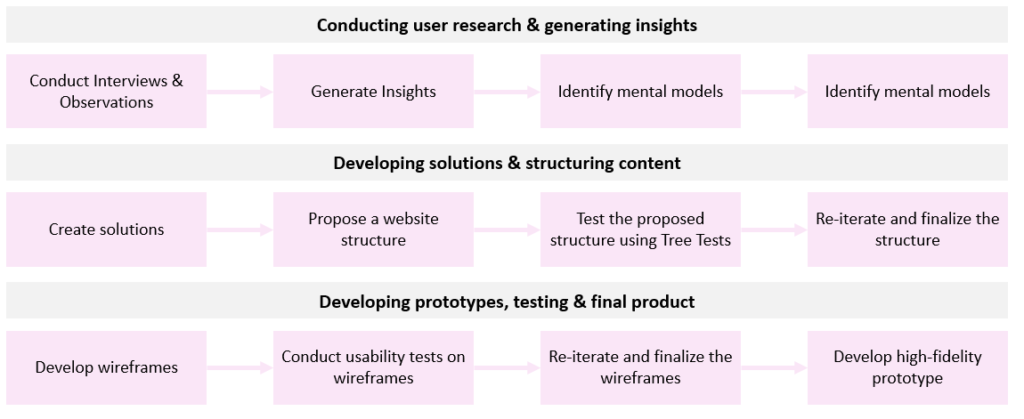 i wore the product manager hat
My role in the project was to help the team come up with the overall strategy and vision and to ensure that at each step of our project, our approach aligned with this overall vision and things came together nicely. Some of my major contributions in the team were triangulating from all the research notes to develop the research insights, identifying and framing the archetypes and suggesting creative solutions for features on the website.
The user research: mostly exploration and some signs of clarity
We kicked off the project by initiating the user research process. The first step was to come up with research objectives which could help us nail down exactly what we were trying to find out through the research. We came up with a list of some broad ranging objectives for our research.
Find out who the decision makers are within cultural organizations and how they decide whether to participate with UA or not
Understand why organizations may be interested in sharing their collections with UA
Discover the objections organizations will have for joining UA, reasons for those objections and how they can be handled
Find out how Urban Archive should be introduced on the website
Understand how to communicate UA's value proposition to general public users
Understand how to describe the tools available within UA
Explore general public users' donating behavior and understand what would make people donate to Urban Archive
Methodology
The methods used for this research were semi-structured interviews and direct observation. A total of 10 general public members and 5 cultural organization employees were interviewed for the study. For observations, participants were asked to employ the Think-Aloud Technique while performing specific tasks by navigating through the www.urbanarchive.nyc website.  An elaborate interview and observation guide was developed to ensure the consistency and quality of the researcher's approach.
Insights
The entire interview and observation experience was eye-opening for the team. We realized that many of the presumptions we had held about how users perceived Urban Archive through the website and how they interacted with the website did not hold true. All of these findings were valuable but we wanted to build insights by focusing on findings which added to our knowledge in a way that was completely new and not thought of before. To do this we identified consistent themes from all of our research and used those to come up with the following four big insights:
Cultural Organizations want to stay relevant with the end goal of higher attendance. Being a part of ongoing cultural conversations is important.
Cultural organizations being historic institutions feel pressured to prove their relevance to current cultural conversations. They feel a sense of "responsibility" in representing and protecting history. One of the key metrics they use to measure their standing is their attendance and the engagement level of the visitors.
Current digitization efforts fall short of expectations. Audiences have not been provided quality, curated experiences. Organizations have not been able to improve their collections.
Cultural organizations have had poor experiences with digitization. There has been a tendency to simply "dump" all the content online without any underlying narrative. Only users who are purposefully searching for something can engage with the content. However, the collection doesn't offer a quality curated experience. This has led to disappointing engagement. Moreover, curators and educators feel the need to utilize the power of analytics to improve their collections which is something that hasn't been done yet.
General public users are exploring, building connections and seeking experiences. Users want less of a tourist experience and more of an authentic NYC explorer experience.
City explorers or history enthusiasts are seeking ways of building authentic connections with the world around them. They strive to do this either by accumulating deeper knowledge about the history of the city and building their cultural capital or by building social connections with people which are based on the activity of exploration.
Users want some tangible or intangible return for their donations. Donors want to show their role in preserving NYC history.
Users self-report that they donate to causes they feel passionate about. However, probing their past donating behavior shows that they are often driven by rewards. The appeal may come from the inherent value of the reward itself or it may come from the reward being a symbol of them being part of an "in-group" of people (such as people who help preserve history). In the case of UA, users also expect to receive 'perks' with cultural organizations in return for their donations.
Understanding mental models through archetypes
The Experience Seeker
The first archetype is the Experience Seeker. Someone who passionately subscribes to the idea of "experiential living", they actively seek out new experiences as well as new connections. They go searching for experiences that help them 'build memories' with the people around them. As with all of the other archetypes, they also love bookreading and are artistically inclined. So they also like to explore at a deeper level where they can connect the places they are exploring with their art interests.

The Social Explorer
The Social Explorer derives the greatest value out of their social connections. For them the most important element of any activity is who they will be doing it with. They pride themselves for their ability to make friends wherever they go. Since their identity is so crucially dependent on the people around them, they can sometimes question the authenticity of their relationships which leads to a sense vulnerability and a need to validate themselves using other means. This results in performative behavior often in the form of active social media posting.

The Cultured Explorer
The Cultured Explorers are knowledge-seekers who like to build meaningful connections with their surroundings. They often practice this by engaging with the history of their community which is captured in the architecture and the cultural institutions. They may be seeking to become subject-level experts in specific areas. A lot of their exploration is done solo and in a very methodological way.

Guardians of History – Cultural Organizations
This archetype represents all the different stakeholders in Cultural Organizations who could be either i) decision makers for deciding whether to partner with a platform like Urban Archive or ii) direct users who would be using the platform as a Content Management System. Their role in the cultural organization can be as a curator, educator, academic, engineer, conserver or director. 
This archetype represents the mindset of cultural organizations in general. They see themselves as historical institutions who have a crucial responsibility towards the human civilization. This entails protecting their collection and its reputation and ensuring that it remains equitable in terms of representation and access. It also means making sure that their organization is able to use its assets to benefit the world today in different ways.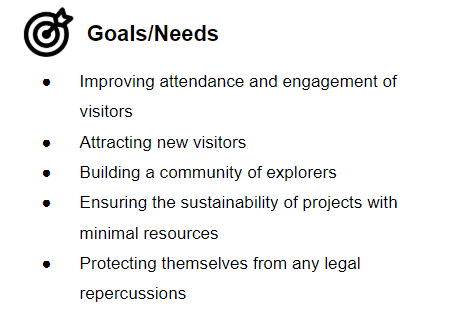 mapping User journeys to find pain points
Learnings
Add learnings from this process here
Creating solutions and defining some structure
Feature Prioritization
Coming up with features…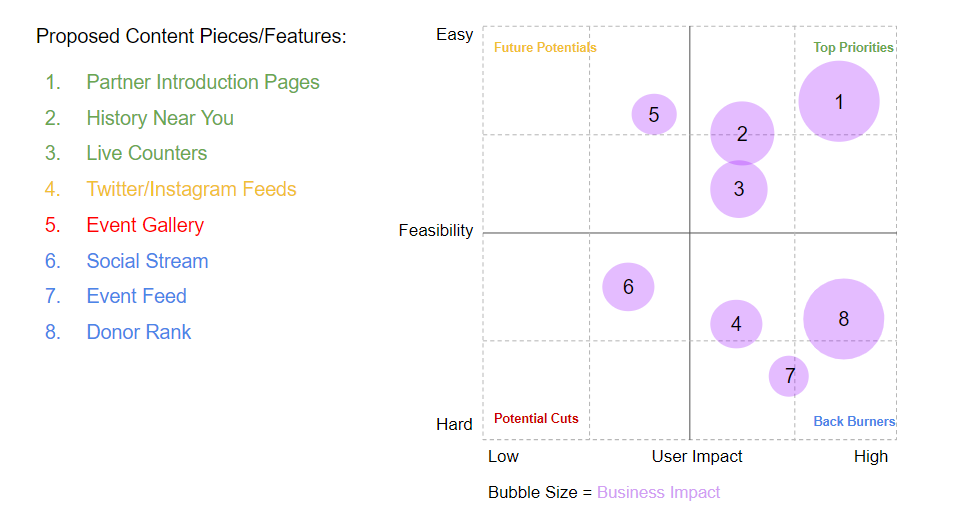 building the navigation through tree sort
Participants were given six questions for the tree test. Each question asked them to locate a page on the website where they would expect to find the required information. We analyzed the following data points:
Direct & indirect success/failure rates & time taken to complete each task
Pathways chosen by the participants analyzed using Pie Tree visualizations
Most common 'first clicks' for each task & most common destinations
Qualitative feedback provided by the participants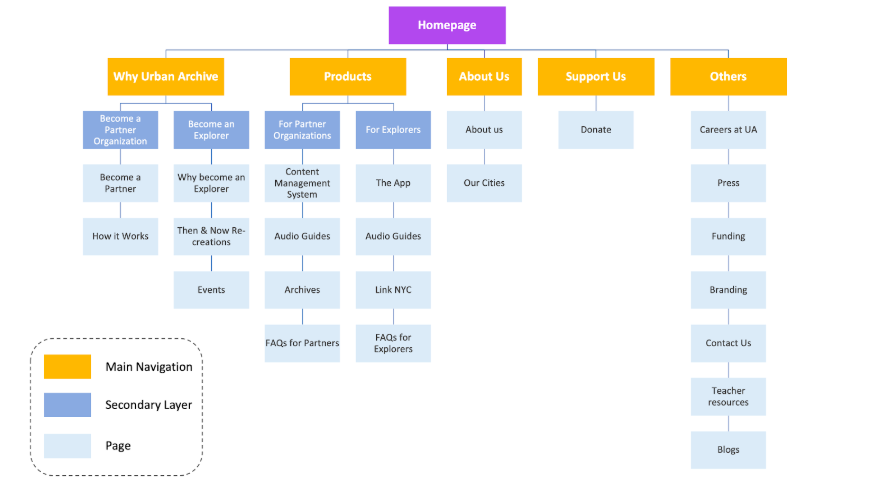 Prototype Testing

The final product