At CES 2019, Samsung introduced GAITS (Gait enhancing and motivating system), a line of wearables to assist various body parts (hip, knee, ankle). Gems-H, a walking assistant designed to correct posture, provide stability, increase the walking pace and provide resistance to help with injury rehabilitation was a prototype that caught a lot of attention. With constant improvements made to the original concept, Samsung has turned a simple walking assistant to a virtual personal fitness coach and studio.
The CONCEPT
To create an exoskeleton that does more than just improve people's ability to walk.
Last year's prototype enabled walking assistance and resistance for helping wearers improve overall balance and strength. The company has now tried to focus on the resistance aspect of it to provide users with different workouts, unique to each individual's needs to achieve personal fitness goals, essentially serving as an at-home gym.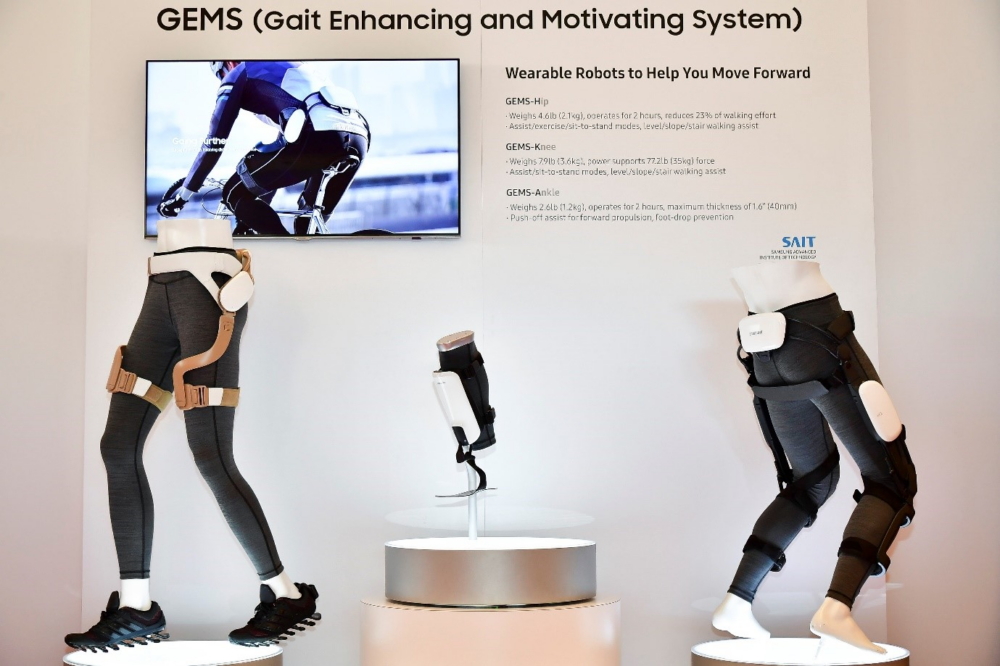 "In the Age of Experience, we need to re-think the space we have to accommodate our diverse and evolving lifestyles."

H.S. Kim, President and CEO of Consumer Electronics Division, Samsung Electronics
As an assistive technology, it touches on the functional model of disability. With the help of advancements in technology, it limits and reduces issues of mobility and aims at pushing boundaries to improve the overall performance and physical strength of the users. Having said that, the wearable would not be able to assist with extreme mobility issues like complete paralysis or an extreme case of foot drop.
Samsung Gems was first targeted at the elderly and individuals that faced mobility issues. It tracked and recorded muscle movement using artificial intelligence that helped improve stability while reducing the amount of energy used and provided support while walking. Additionally, it could also add a little bit of resistance to help individuals cope with an injury easier, better and faster.
The new and improved concept is more inclusive and is now catering to a wider audience group. In addition to the features of the earlier concept, it now enables individuals to stay fit in the comfort of their homes or anywhere & anytime they want.
When combined with Samsung's AR glasses, the user gets a virtual personal trainer that creates an immersive workout experience. There is more! GEMS can also be connected to a Samsung mobile to receive daily professional feedback. The app is designed in a simple and understandable manner. Avoids any language jargon and uses icons that are universally recognized. It also provides users with appropriate signifiers, for instance, the back arrow next to balance or the down arrow to signify how to improve the users posture during a particular exercise.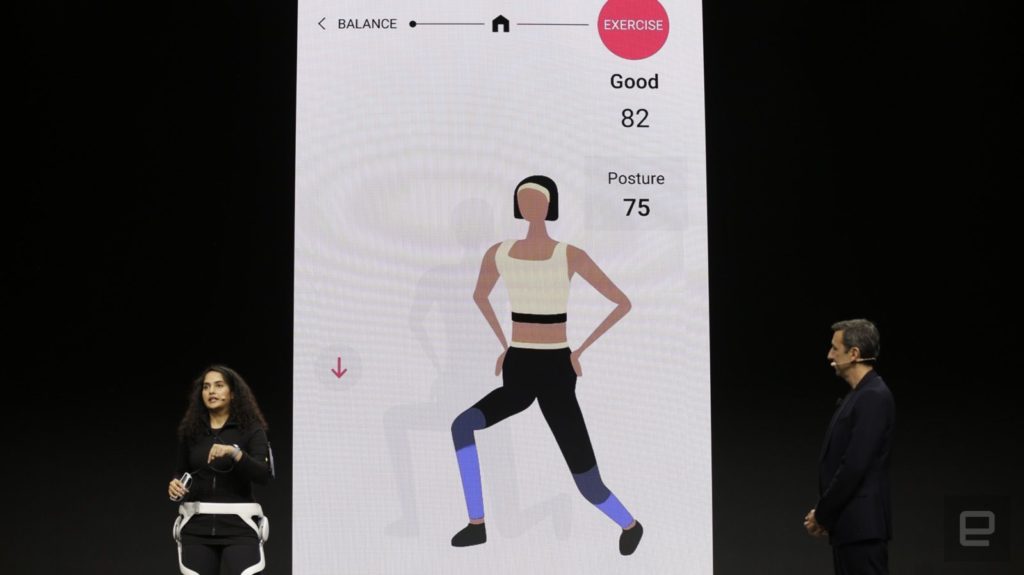 PRODUCT ACCESSIBILITY
"What makes Samsung's approach unique is the fact that we have a very clear philosophy built around human-centered innovation. We build and create to solve problems and enhance people's lives."

H.S. Kim, President and CEO of Consumer Electronics Division, Samsung Electronics
In a world where there is a lack of physical activity due to busy schedules or disabilities linked to mobility, the product provides functionality and tries to create an experience that makes users feel independent, healthy and confident. The product can be used by a diverse user group, regardless of the user's age, weight or body type. It is particularly recommended for individuals with bad postures, balance and stability issues, weak legs and minor knee, ankle or hip injuries. The virtual personal trainer would be multilingual and will showcase a balance between humanized and robotic innovations.
The product is a tech-driven, human-centered innovation. It's personal assistance and detailed feedback on a routine basis is what adds to the entire experience. Having said that, to be able to get the complete immersive experience, the users would have to invest in the exoskeleton, the company's AR glasses and it's mobile. Samsung has still not disclosed the cost but based on multiple reviews, it might not be extremely affordable.
The exoskeleton almost feels like a part of the user's body. The materials used for the exoskeleton are still not finalized, however, the wearable is adjustable to fit various body types, it is easy to put on and off. During CES, individuals who tried the wearable claimed that it did not restrict movement (unless they used the resistance mode) or cause any discomfort. Climbing steps, walking, running and bending was easy and seamless. The exoskeleton also works well for people who are on their feet continuously by increasing walking speed by approx 20% and reducing energy by 23%! There is only a single button to change the modes (resistance/assistance) on the product that makes it uncomplicated, easy to use and easy to understand. The product is also lightweight and comfortable.
The product is extremely compatible with other Samsung products, including its smartphones, AR glasses, and smart home devices. There has been constant chatter about this innovation and people all around the world are looking forward to a device that works as a portable fitness studio with a personal trainer! This exoskeleton would also be a great way to increase physical strength, train individuals for a variety of sports and fitness activities and assist with physiotherapy.
CONCLUSION
Samsung GEMS exoskeleton is an innovation that can change a user's entire walking and workout experience. The concept is still under development and needs some fine-tuning. As the AR glasses are a huge part of the experience, Samsung is trying to work on the level of dizziness previously associated with other AR glasses. The company is also aiming at creating an experience that is personal to each user by using Artificial intelligence and powerful software. As the product as been designed keeping a smart home in mind and is a wearable, the product's portability is still questionable. Compatibility with all Samsung devices is great but will it become a hindrance for individuals who just own the exoskeleton without the smartphone and glasses? The exoskeleton is designed to help individuals lead a healthier life by regular exercise reminders and feedback. It would also reduce the use of braces and clutches to make life easier and more independent for users with mobility issues.