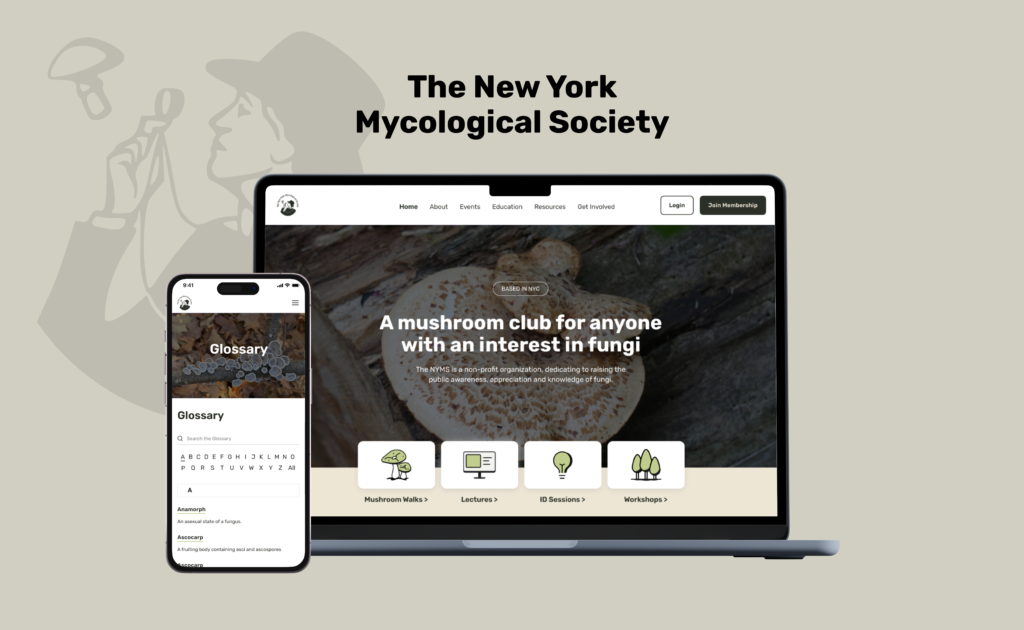 Team members: Yuxin Huang, Sacchit Vartak, Priyanka Jain, Ruhee Shah
Project duration: Feb-May 2023
The New York Mycological Society
The New York Mycological Society is a mushroom club for anyone with an interest in fungi. The organizational goals of NYMS are:
Raise community engagement: As a non-profit organization, NYMS is focused on growth and encouraging participation (not conventional conversion).
Grow diversely: NYMS wants to foster a diverse community of mycology enthusiasts with different perspectives to enhance the learning XP.
Foster interest: NYMS want to get people more interested in the understanding of the symbiotic relationship that mushrooms can have in the environment.
Spread awareness: The New York Mycological Society's (NYMS) mission is to raise public awareness, appreciation, and knowledge of fungi through education and research.
However, their current website didn't meet their organization's needs.
Therefore, we designed
A platform that fosters categorized information and encourages engagement.
Unleashing Creativity: The Journey of NYMS Website Redesign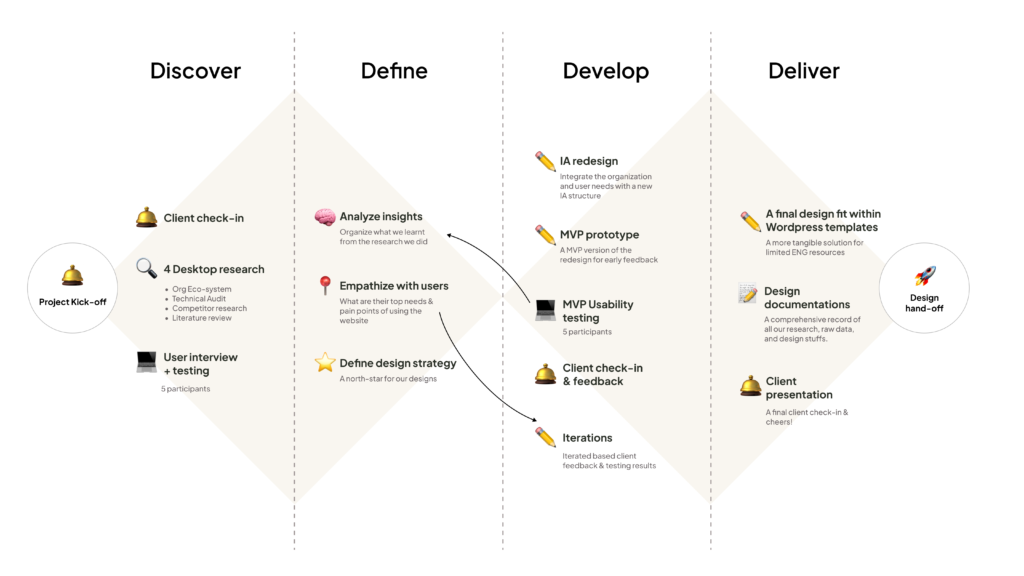 A Solid Foundation of Our Study
EcoSystem of NYMS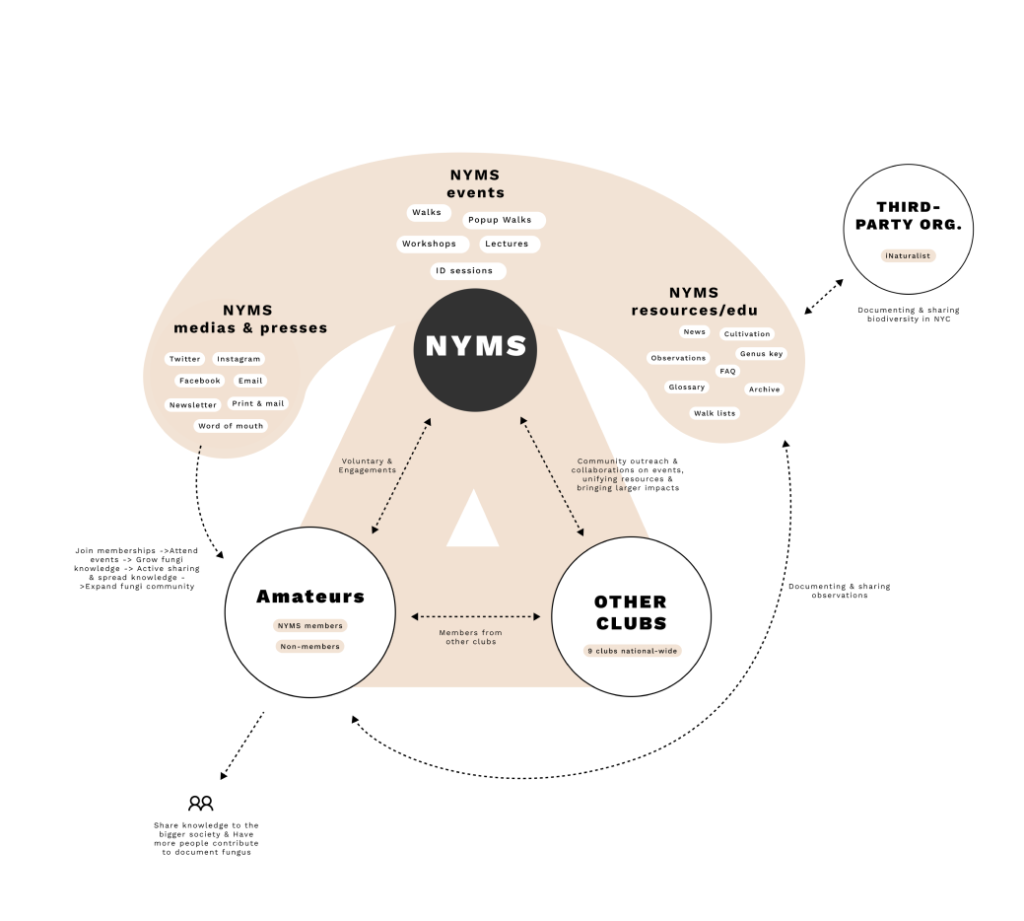 Insights: As an event-heavy non-profit organization, NYMS aims to build a diverse and active community, including NYMS members, other organizations, and their members, to communicate and transfer knowledge about fungus. The website helps them automate membership sign-up and document information.
Technical Analytics
Cognitive Walk-through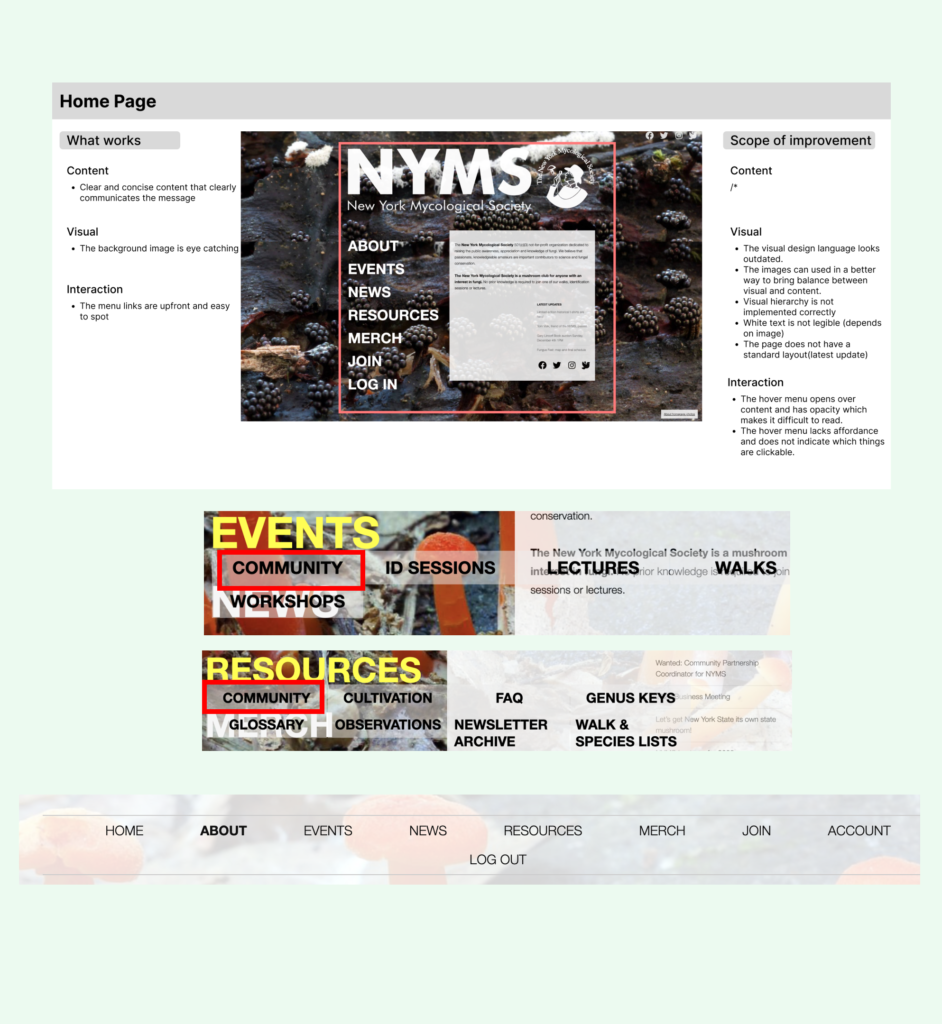 Insights: The cognitive walkthrough of the website has identified issues such as repetition of terminology, inconsistency across pages, and a clunky visual design. Addressing these issues can improve user experience and make the website more effective.
Old Information Architecture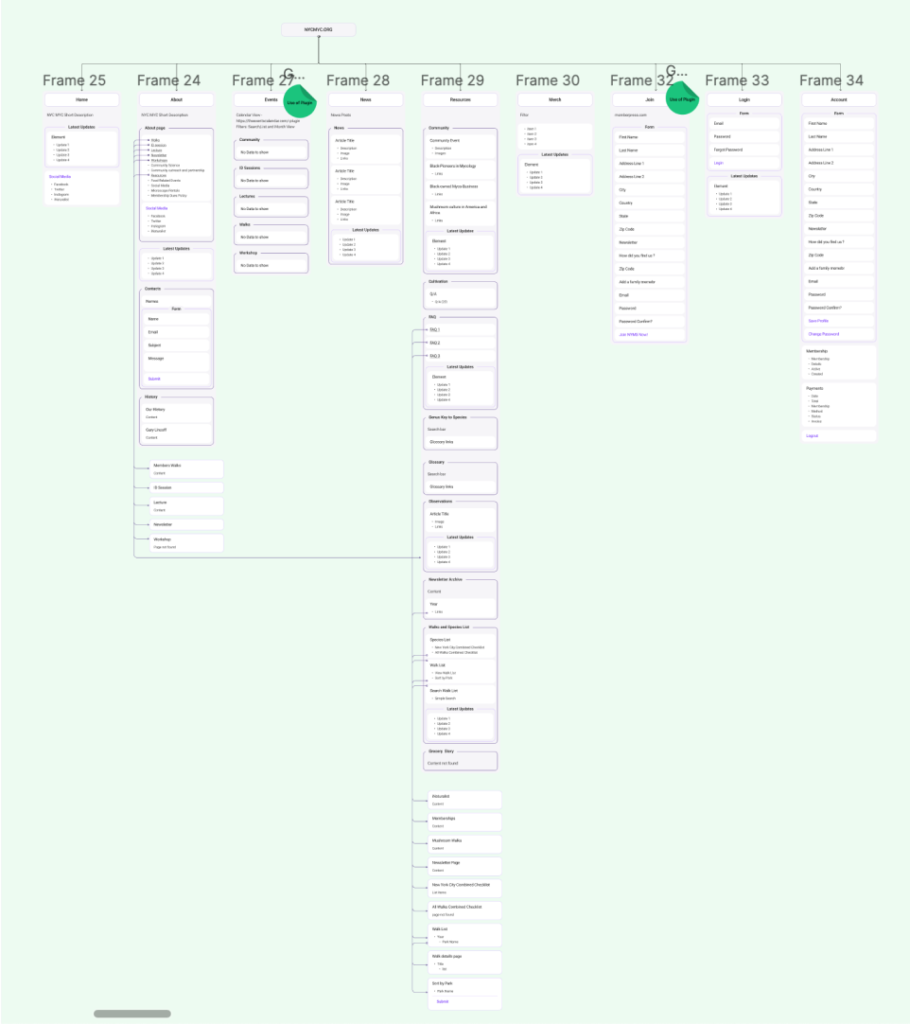 Insights: The website has empty pages, lacks continuous flow between pages, and has repetitive information. Improvements in these aspects are necessary to enhance the website's overall performance and user experience.
Accessibility Audit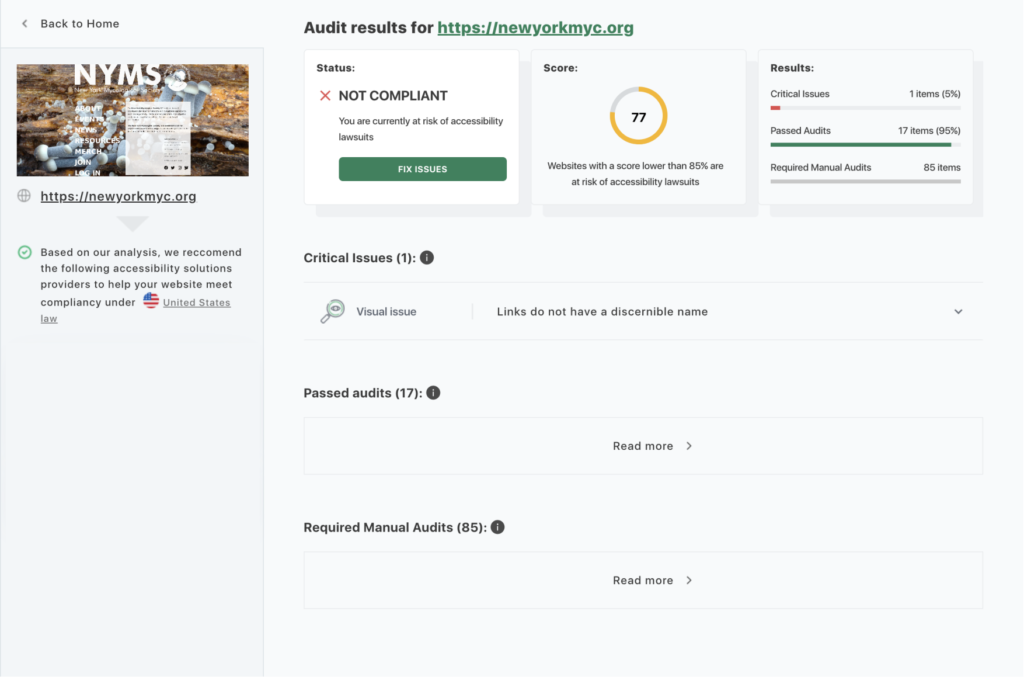 Insight: The website has an accessibility score of above 75 on various checker tools.
Competitor Audit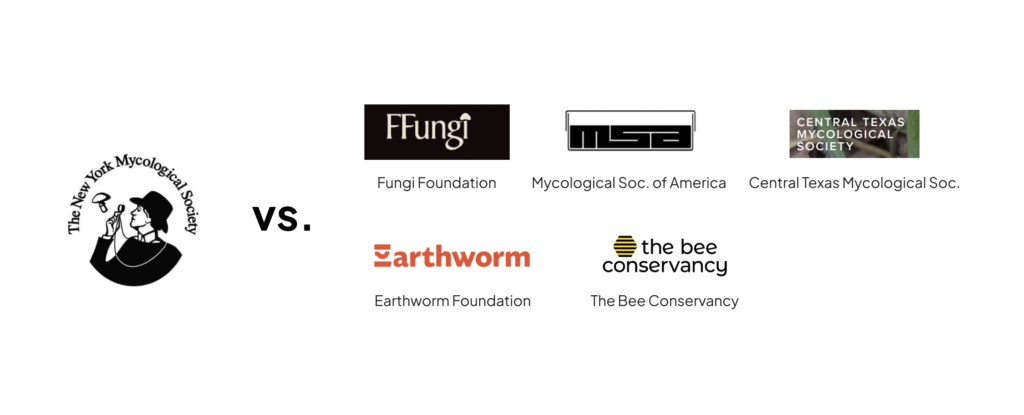 Insights: The competitive audit identified key aspects that contribute to an effective website, such as an organized homepage, concise navigation with meaningful labels, consistent appearance, and relevant and well-structured content.
User-Centric Insights: Understanding the Audience of the NYMS Website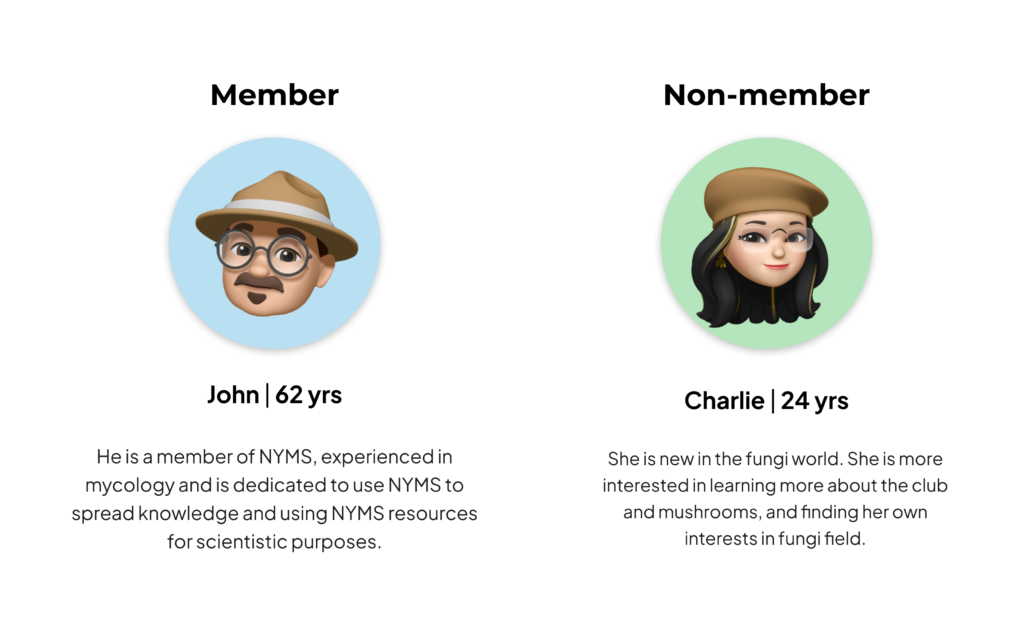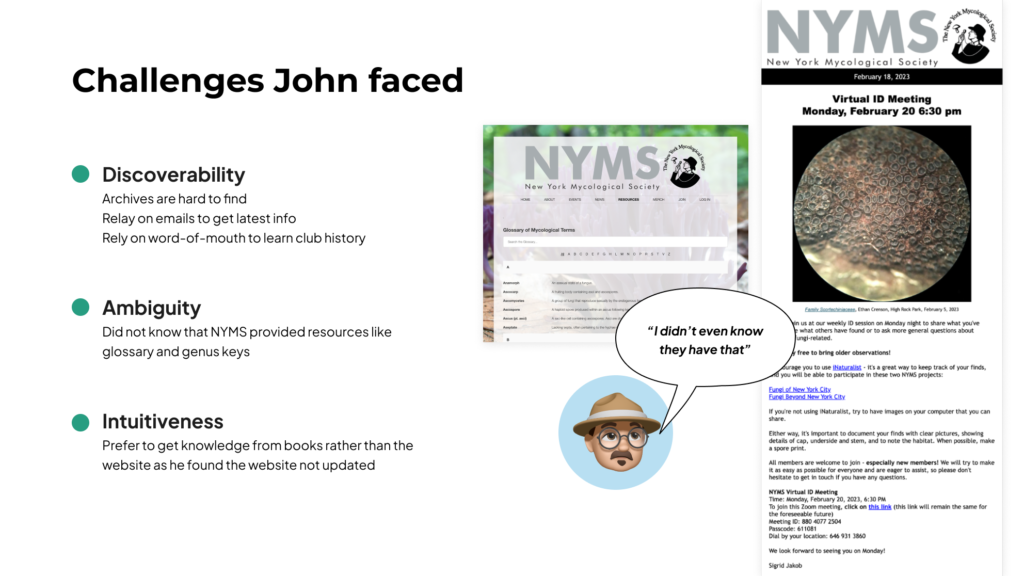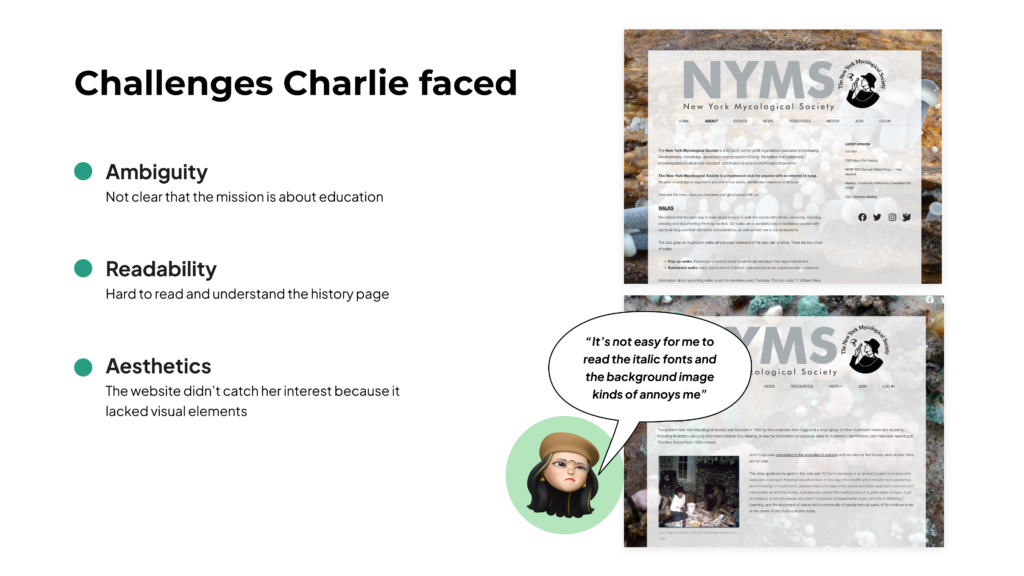 Interaction Flow: Mapping User Pathways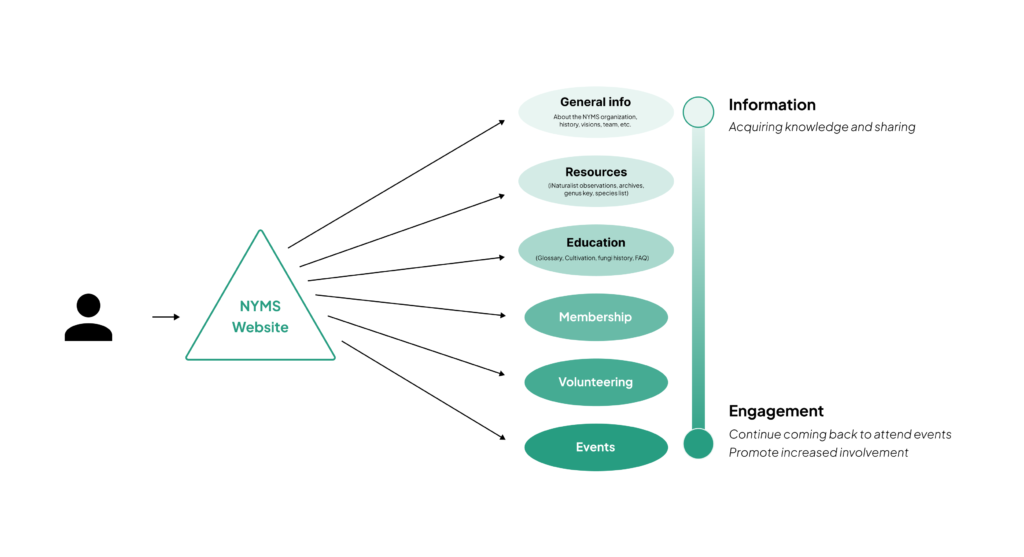 User-Centered Design: Placing Users needs at the Heart of the Experience
Our design strategy focuses on crafting a seamless experience that categorizes and prioritizes different types of information to learn about fungi and utilize NYMS resources.
We also aim to craft intuitive interfaces that are visually appealing, easy to navigate, while ensuring that all users are encouraged to engage with NYMS activities.
Crafting an Intuitive IA for Seamless User Journeys
Through our user-centric IA design, we aimed to create an intuitive and user-friendly browsing experience. Our goal was to ensure that users could easily navigate the website, locate relevant information, and actively engage with NYMS. By providing a welcoming and inclusive platform, we aimed to inspire users to explore, learn, and contribute to the captivating world of mycology.
Separated relevant content from the existing "Resources" section to form a new "Education" branch – serves for beginners in mycology with beginner-friendly resources and materials.
Added a "Get Involved" branch – aims to encourage members to actively engage with NYMS through contributing findings, participating in citizen science initiatives, and joining volunteer programs.
Restructured the "Events" branch as a central hub for NYMS-related gatherings, workshops, and conferences, so that users can easily find event related information in a place.
MVP prototype for concept testing "I like that this is a lot smoother and that you guys were able to, basically, just remake the site without losing the information or fuel of the site"
"Especially for the older folks it will be very familiar hopefully"
"It (Education page) could be limitless really and we could add as much as we want here"
" I like the way that history is showed in this timeline."
What needs to be improved
After conducting user testing, we made several valuable changes to enhance the user experience on our platform.
Added Homepage Category
Incorporated news articles into relevant categories
Relocated Lecture Archives under Resources
Prominently placed INaturalist on the homepage
Created a specific walk feature (included in documentation).
Improved the newsletter
Style Guide Brief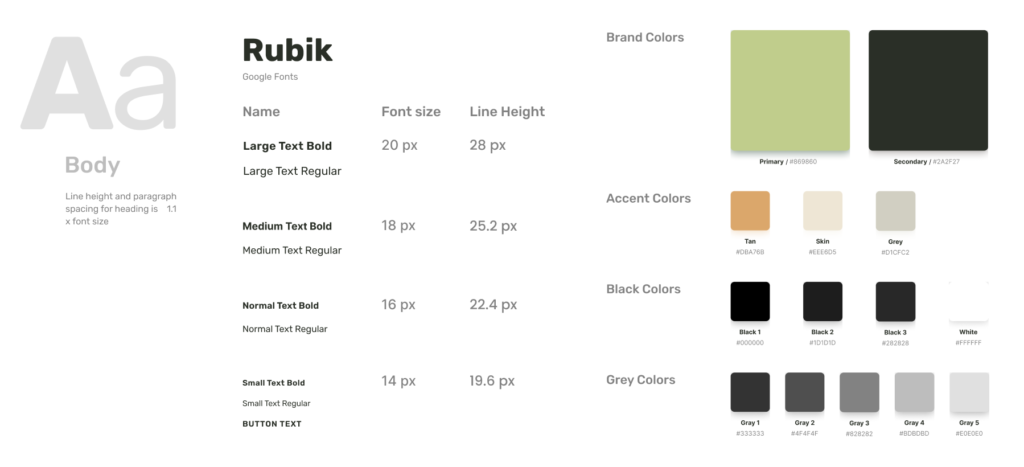 As part of our design process, we developed a comprehensive style guide that will help maintain consistency and coherence across all of NYMS's digital channels. This style guide includes information on color palettes, typography, imagery, and other visual elements.
By following this style guide, NYMS can ensure that their brand identity is consistent and recognizable, making it easier for users to navigate their website and social media channels. Overall, our goal was to create a design solution that meets NYMS's needs, enhances user experience, and promotes their mission of educating the public about the importance of mushrooms.
From Sketches to Polished Designs: Crafting Hi-Fidelity Wireframes for Effective User Interaction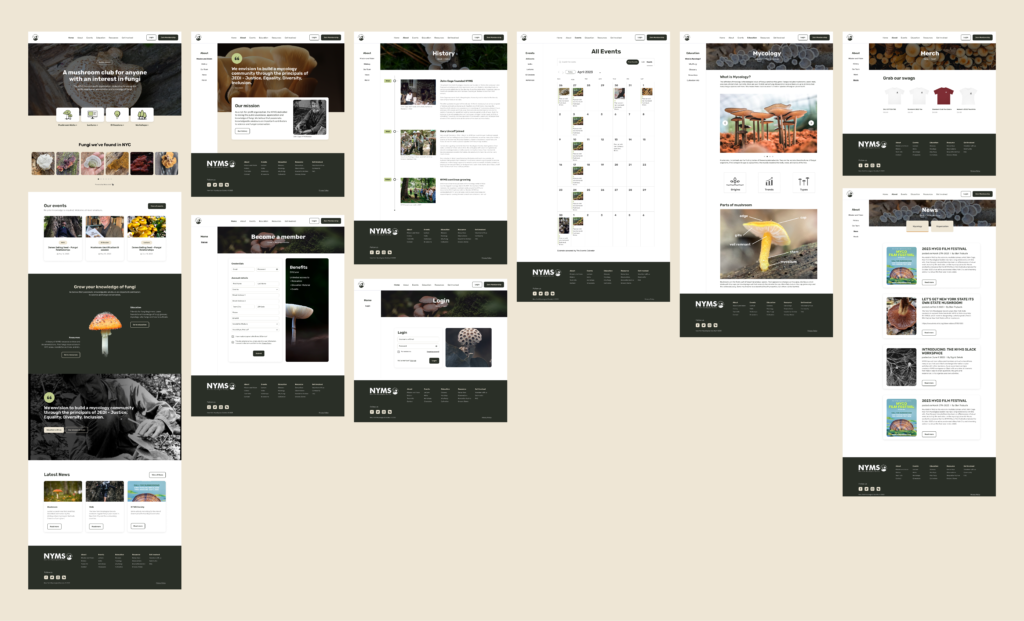 To make it responsive

Moving to the next phase of our design process, we made our platform more accessible and responsive by creating mobile screens. Even though the website template we are proposing is already responsive, we created key screens to showcase their appearance. We tried our best to ensure that the screens are consistent with the desktop version while also optimizing the design for mobile devices.
Implementation Strategy
Apply designs into WordPress template
Considering our clients' limited capacity on engineers, we decided to adapt our designs into a WordPress template to ensure the design solution is:

Future scope/ Next steps
Member Center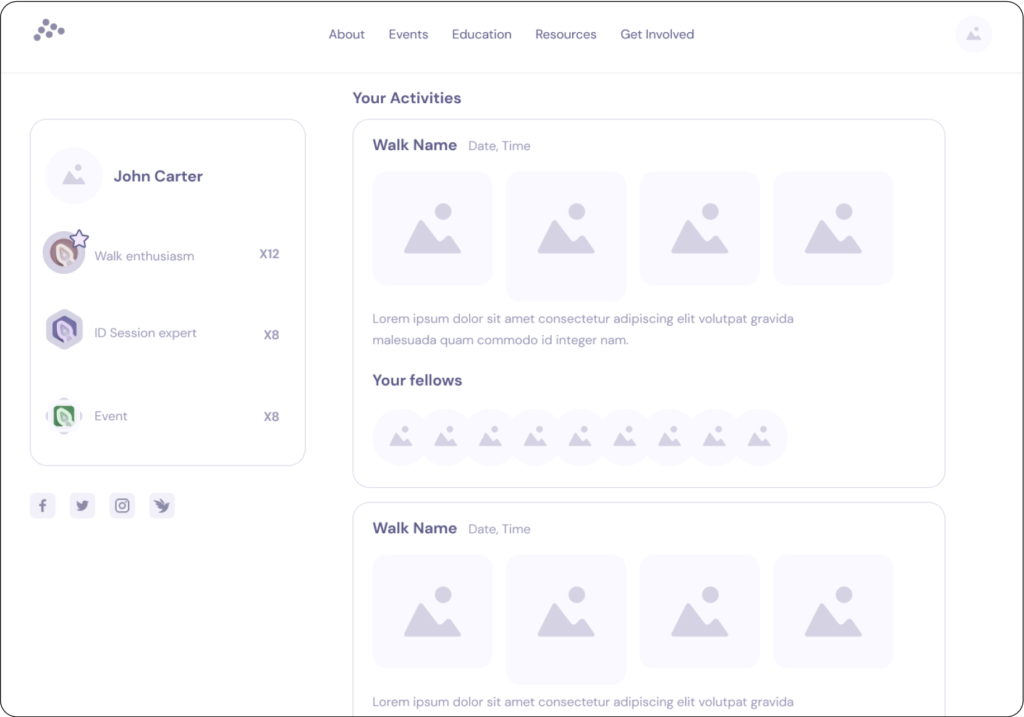 Implementing a member center on the website would provide several features, such as allowing members to track the events they have attended and connect with other attendees. Additionally, members would receive virtual rewards for their contributions and event attendance, which could encourage active engagement among younger members of the society.
Conclusion: What client said , What we learned?
Throughout the NYMS website redesign, our team embarked on a transformative journey to revolutionize the user experience and create a platform that resonates with our client's vision. Our efforts have been met with overwhelming praise and excitement, as our client exclaimed, "I am speechless! I love it!"

Our client's feedback has served as a testament to the successful collaboration and the exceptional design solutions crafted to meet their needs. By incorporating their input and leveraging our expertise, we have achieved a remarkable outcome that has improved the overall user experience.

As we conclude this case study, it is important to highlight that the collaboration between our team, our professor and the client has been a catalyst for progress.

With their approval and excitement, the development phase of the website has already commenced, marking a significant milestone in turning our design concepts into a fully functional reality!

Together, we have unleashed the potential of design excellence, and we are confident that the NYMS website will flourish as a valuable platform that engages and delights its users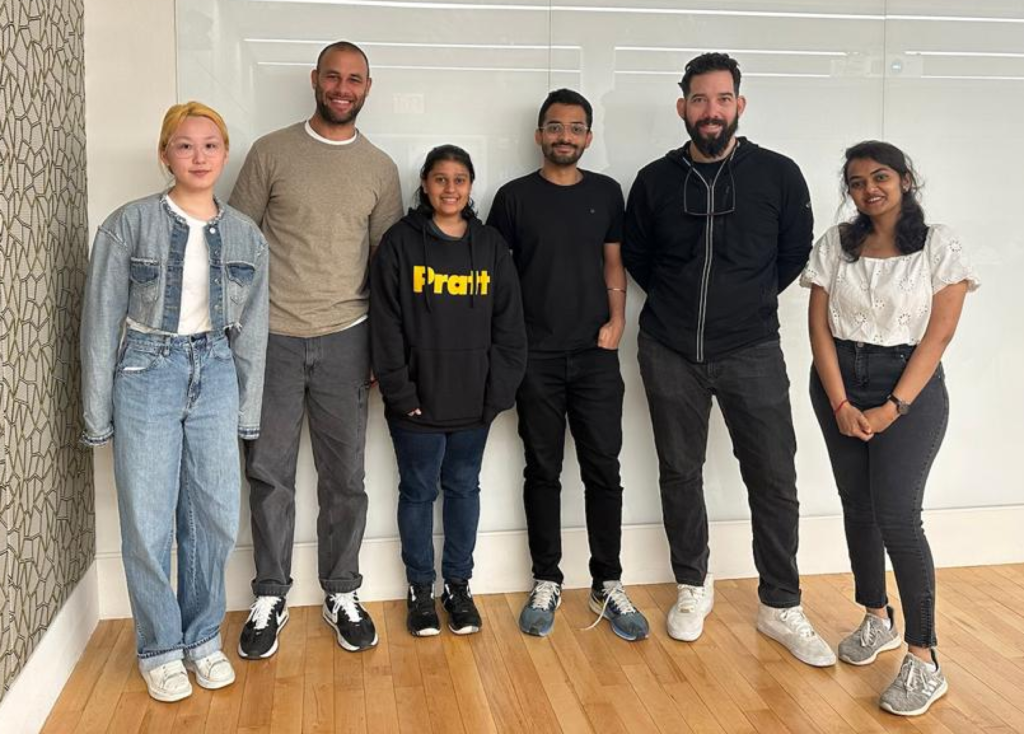 Left to right : Yuxin, Hasan, Ruhee, Sacchit, Elan (Client) & Priyanka