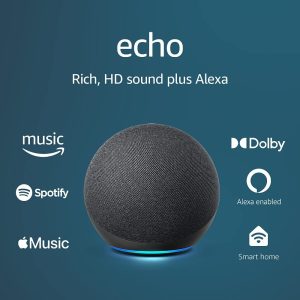 Introduction to Amazon's Echo
Echo is a voice-controlled product that has the combined functions of a smart speaker and virtual assistant through Amazon's Alexa. Without screens or physical toggles, Echo can play music, answer questions, and control smart devices like lights, locks, and other digital devices supported by Alexa.
Accessibility Review of Echo's features
Smart home control via Alexa
(+) Usability: Besides people with disabilities, the Echo's home controls expedites the interactions of all other people as well, since home objects no longer need a close-up toggle or manual handling as the corresponding voice command automates this process for the user.
(+/-) Accessibility: Smart controls facilitate the day-to-day of people with restricted physical mobility and vision as these interactions can be automated via a voice command from a maximum distance of 17 meters. However, the Echo excludes people who cannot speak or move close enough to the device for their voice commands to be heard.
(+/-) Affordability: Unfortunately, products controllable with smart home control are more expensive than their counterparts. For instance, according to Amazon, a regular LED lightbulb averages $2, while a single smart bulb averages $12, which adds up as homes require several bulbs.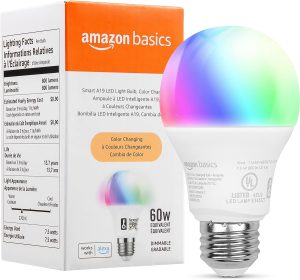 Fortunately, the Amazon Echo comes in multiple models and sizes to target a range of budgets. The smallest and most affordable version is the Echo Dot at $40, whereas the full-sized Echo is priced at $100 on Amazon.
(-) Compatibility: Echo's Alexa function can only control Amazon devices and products where the Alexa app can be downloaded. While the Echo should work on all iOS devices, it is not guaranteed to work in all Android devices, according to the product's specifications.
Provide services via external platforms like shopping and streaming music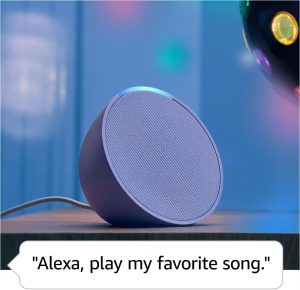 (+) Desirability: The popularity of Echo devices lies in its versatility. Using AI, it can automatically recommend songs and playlists based on the user's connected music accounts like Spotify and Amazon Music. Beyond playing music, it acts as a device that allows users to discover new music as well. For added personalization, the Echo has settings to further refine the music such as treble and bass controls.
(+) Usability: Rather than performing a multi-step process on Amazon shopping that involves browsing, adding to cart, and paying, the Echo quickly allows users to purchase items off Amazon with simple voice controls. It collects information from their Amazon account to process the payment, and with this saved information, its user can directly purchase items with one command.
(+) Viability: The Echo is frequently used to stream songs from Amazon Music, as well as external platforms like Spotify. This product not only contributes growth to its main smart controls, but also expands marketing and use of Amazon's music products and shopping platform.
(-) Affordability: In order to stream music with Echo, one must have an account with Amazon Music, Spotify, or Apple Music. While these music platforms have free versions, they are filled with ads and might not contain the widest selection of music. The paid monthly subscriptions are popular but are expensive, with both Amazon Music and Spotify being priced at $9.99 a month. Likewise, the convenience of ad-free paid subscriptions further contribute to the viability of the product as it promotes Amazon Music.
(-) Compatibility: The Echo can only stream music from major platforms and excludes smaller or foreign providers. For instance, it cannot access content from SoundCloud, which is a growing music platform for indie musicians. Similarly, due to Echo being an Amazon product its shopping services can only be connected to Amazon, which excludes other popular shopping platforms like Ebay and Costco. Its convenient services are limited to popular platforms or Amazon products, potentially excluding customers from other geographic regions.