Be My Eye is a mobile app designed to assist people with visual impairments in their daily lives. The concept of this app is to connect people who have visual disabilities with sighted volunteers via video calls, allowing the volunteers to provide visual assistance in real time.
Accessibility & Affordability
Be My Eyes is 100% free for individual users. It supports both iOS and Android devices and more than 80 languages. It is accessible to anyone who has a smartphone. It is currently only available on mobile phones and is not cross-platform compatible.
Utility
There are three main features that Be My Eyes provides to its users with visual disabilities: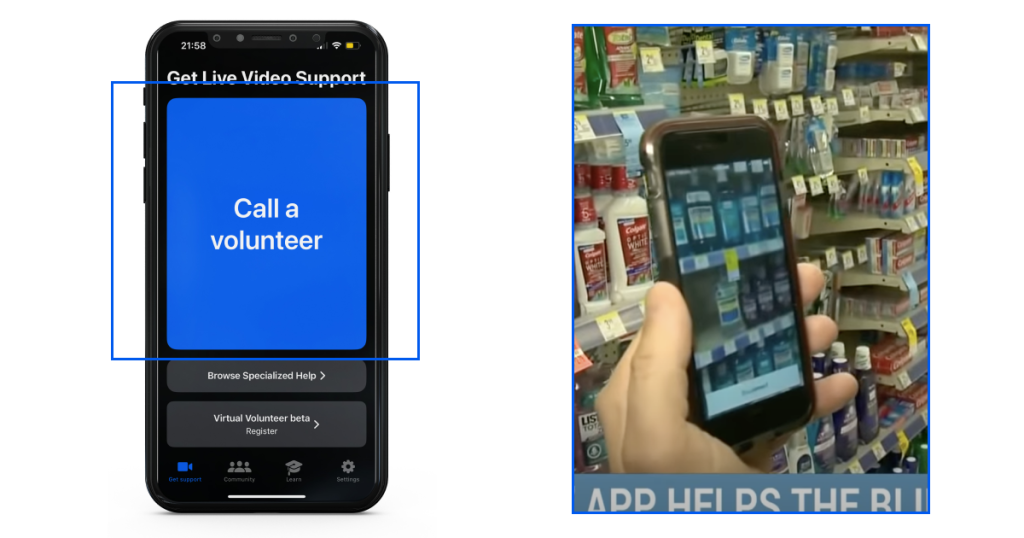 Connecting with a real volunteer: The primary feature of this Be My Eyes is to make a video call to a volunteer to help them in live. Whenever users with vision impairments need help with their surroundings, they can tap the button to connect with a volunteer. As the volunteer picks up the call, they will become the alternative eyes for those users with visual disabilities. They can tell them about the surrounding environments and help with their problems.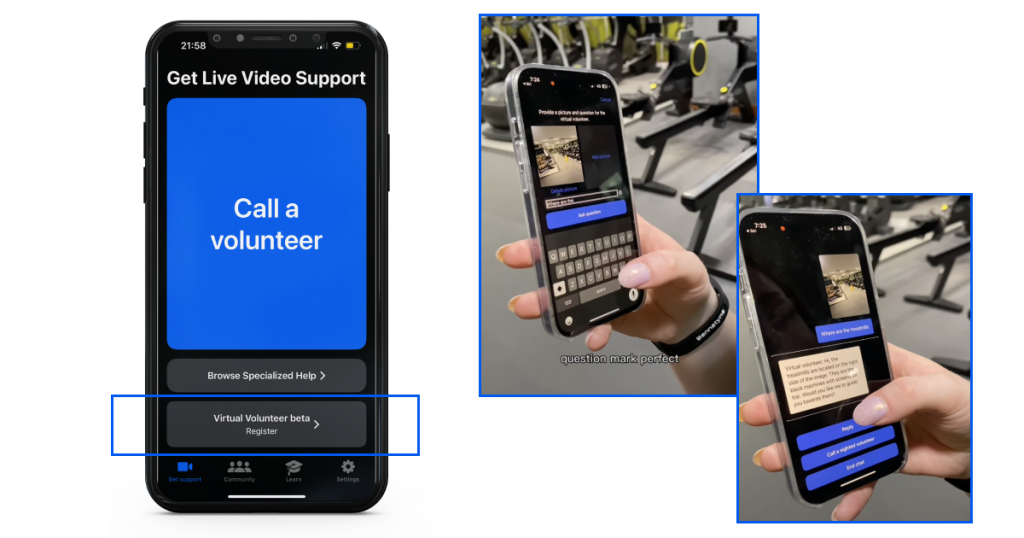 Virtual volunteer: Be My Eyes recently introduced its virtual AI volunteer supported by ChatGPT4. Users with visual impairments can send pictures and text about what they want to ask and get support from the virtual volunteer. This feature is currently in its beta version and will be released to all blind or low-vision users soon.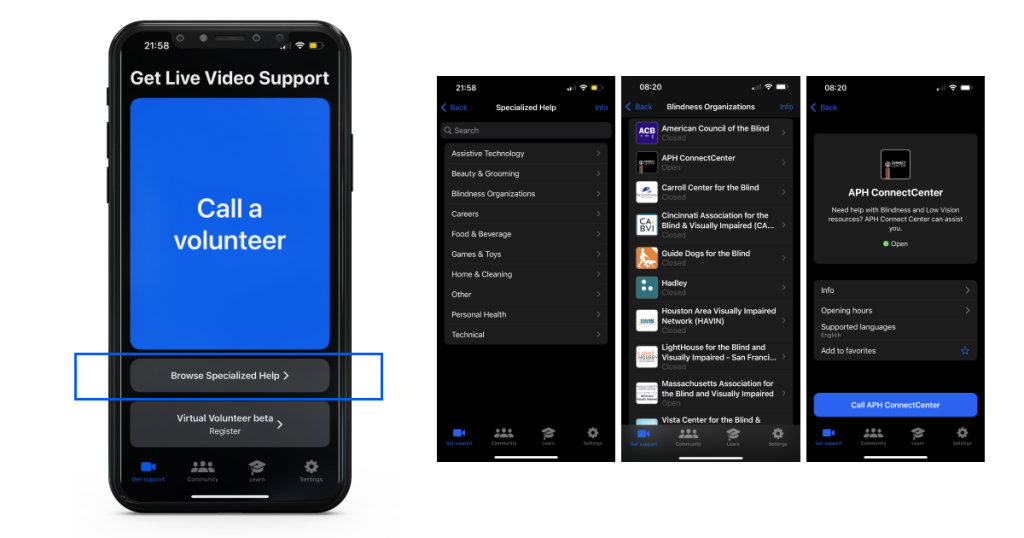 Specialized Help: Specialized Help is a repository of organizations that support people with visual impairments or general disabilities. These organizations are sorted into categories. On the organization page, users can find the basic information of these organizations and call them directly on this page with the "Call" button. However, sometimes this help section can be less utilizable as the status of many organizations is shown as "closed".
These three features primarily align with the functional model. They see a need for people with visual disabilities to reach out for help to complete everyday tasks. They utilize advanced technologies like video calls and AI to help people who are visually impaired overcome their limitations and eventually support their independent lives.
These features somewhat exemplify the social model by breaking down the isolation often experienced by those who are visually impaired and promoting independence for them. However, it only addresses one aspect of the social environment and does not address broader societal issues related to accessibility and inclusivity.
Usability
Users who have visual disabilities can easily access these two functions with a screener reader on their phones. The communication between volunteers and users who have visual disabilities is through audio. It creates a sense of safety and independence for people with visual impairments to navigate their surroundings. There is one drawback: even though the assistance from volunteers is helpful, users with visual disabilities still have to carry their canes to navigate the physical environment themselves with them when getting audio support.
Desirability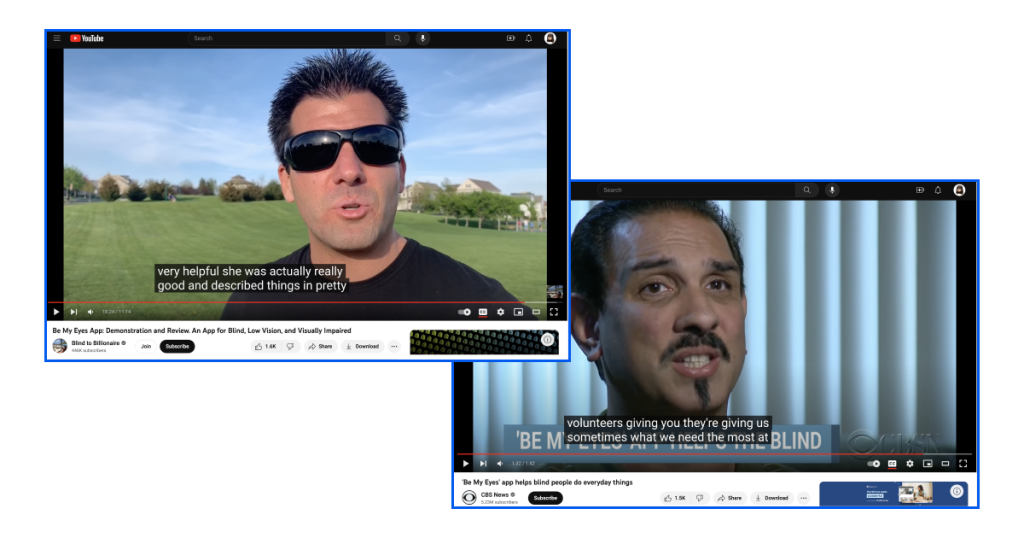 According to the user reviews, people who are visually impaired are very interested in using it regardless of initial nervousness. Before this app was released, they had to video call their family and friends for real-time help via FaceTime or Skype. Now, they can live independently with the support of volunteers who are definitely willing to help them. As the AI volunteer approaches its release, more users are looking forward to it to live their lives freely without waiting for connecting human assistance. Be My Eyes helps enhance the happiness of independent living for visually impaired people.
Summary
Be My Eyes is accessible, affordable, utilizable and usable for people with visual impairments. Most users have high satisfaction using it. It aligns with the functional model by connecting visually impaired users with sighted volunteers for immediate assistance, while not fully embracing the social model as it does not systematically change society for inclusivity. 
Resources:
Lucy Edwards. I am Blind. I Replaced my PT with AI. https://www.youtube.com/watch?v=RIcuQUthfXc
Be My Eyes App: Demonstration and Review. An App for Blind, Low Vision, and Visually Impaired. https://www.youtube.com/watch?v=eo2P9guQtz4
CBS News. 'Be My Eyes' app helps blind people do everyday things. https://www.youtube.com/watch?v=W61LV1P6AqI
The story about By My Eyes. https://www.bemyeyes.com/about